2ton/Hr 4ton/Hr 6ton/Hr Coal Fired Steam Boiler for Petrochemical Industry
I.General introduction
1.Model:DZL
2.Capacity:1-20ton/h
3.Pressure:1.0Mpa(10bar),1.25Mpa(13bar),1.6Mpa(16bar),2.5Mpa(25bar)
4.Steam temperature:184 °c,194°c, 204°c,225°c
5.Fuel:coal,biomass
6.Structure:horizontal water-fire tube, single drum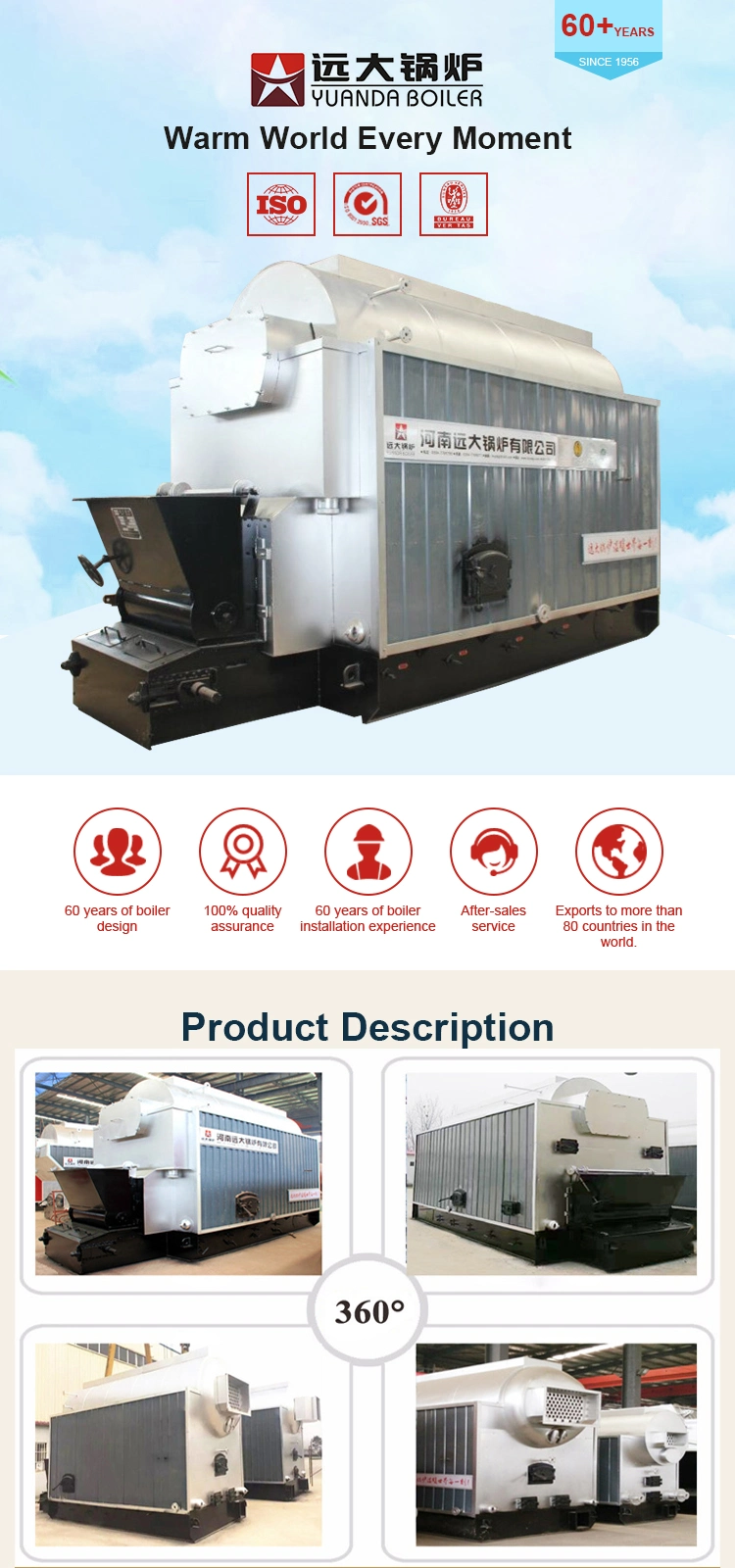 II.Technical datasheet
Boiler model
Rated capacity
Rated pressure
Rated steam temp.
Active grate area
Exhaust gas temp.
Design effiency
Fuel consum.
Weight
Dimension
Delivery mode
Ton/h
Mpa
ºC
m2
ºC
%
kg/h
Ton
mm
DZL1-1.0-AII
1
1.25
194
1.85
157
82
118
14.2
5488*2200*2832
Package
DZL2-1.25-AII
2
1.25
194
3.4
163
82
238
23.2
5900*2500*3256
Package
DZL4-1.25-AII
4
1.25
194
5.18
180
82
472
28
6829*2550*3484
Package
DZL6-1.25-AII
6
1.25
194
7.55
166
83
685
47.6
7695*3565*4275
Package
DZL8-1.25-AII
8
1.25
194
10
155
83
980
52
7965*3565*4275
Package
DZL10-1.25-AII
10
1.25
194
12
151
83.5
1128
56
7746*3773*3441
Assembled
DZL12-1.25-AII
12
1.25
194
16
158
83.5
1375
17.9
8200*2150*2300
Assembled
DZL15-1.25-AII
15
1.25
194
18
161
83.5
1698
18.8
8650*2300*2500
Assembled
DZL20-1.25-AII
20
1.25
194
22.9
150
83
2241
19.1
8915*3373*3337
Semi-Assembled
DZL30-1.25-AII
30
1.25
194
27.5
157.6
83
3380
25.6
7942*2440*2550
Semi-Assembled
DZL40-1.25-AII
40
1.25
194
34.5
162.2
83
4481
19.7
9568*2036*2568
Semi-Assembled

Notice:

1.For other capacitybelow 40t/h, we can also customize for you.

2.This table only shows pressure 1.0Mpa(10bar and 1.25Mpa(13bar), we also manufacture boiler 1.6Mpa(16bar) and 2.5Mpa(25bar).

3.The parameters are for reference, we have been improving our technology. If the technology is improved, please refer to the data showed on drawing.
III.Our boiler advantages
1.5-8% higher efficiency
Our DZL boiler is 5-8% lower fuel consumption, and save at least 5% investment on boiler operation compare to other solid fuel boiler.
2.Self-Protection On Power Failure.
Natural circulation prevents the water wall from vaporizing and prevents damage from accidents without special protective measures.
3.Assure 30 years life span.
1st grade dust cleaning effect protect boiler long life span.
4.Low original dust discharge concentration .
Design with large volume furnace and firing chamber make fuel combustion sufficient.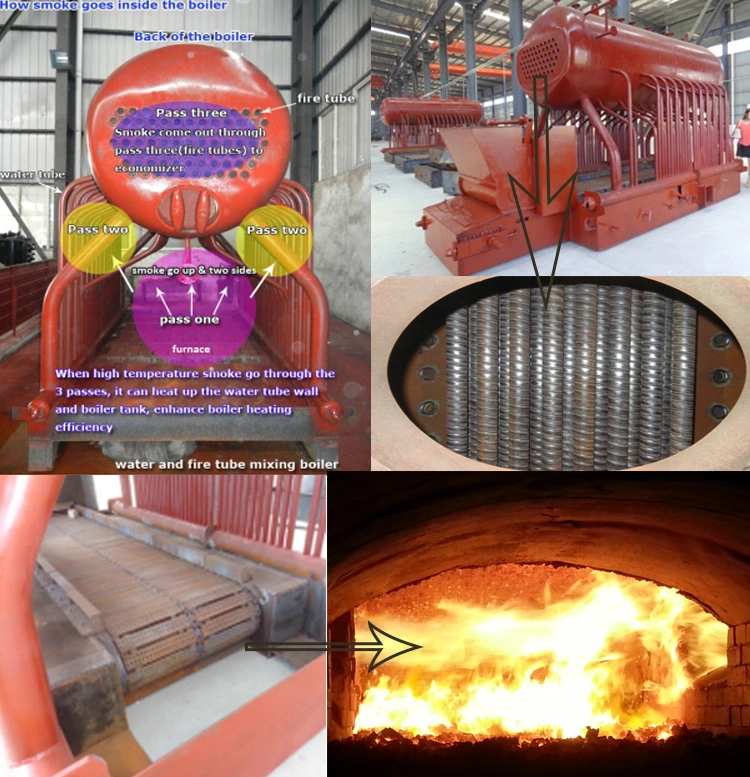 IV.Boiler layout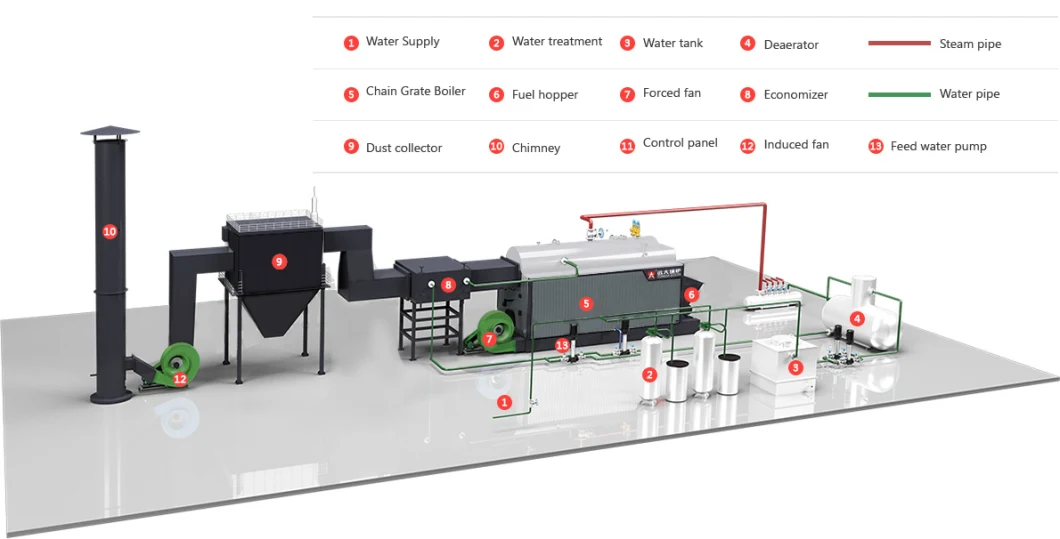 V.Boiler accessories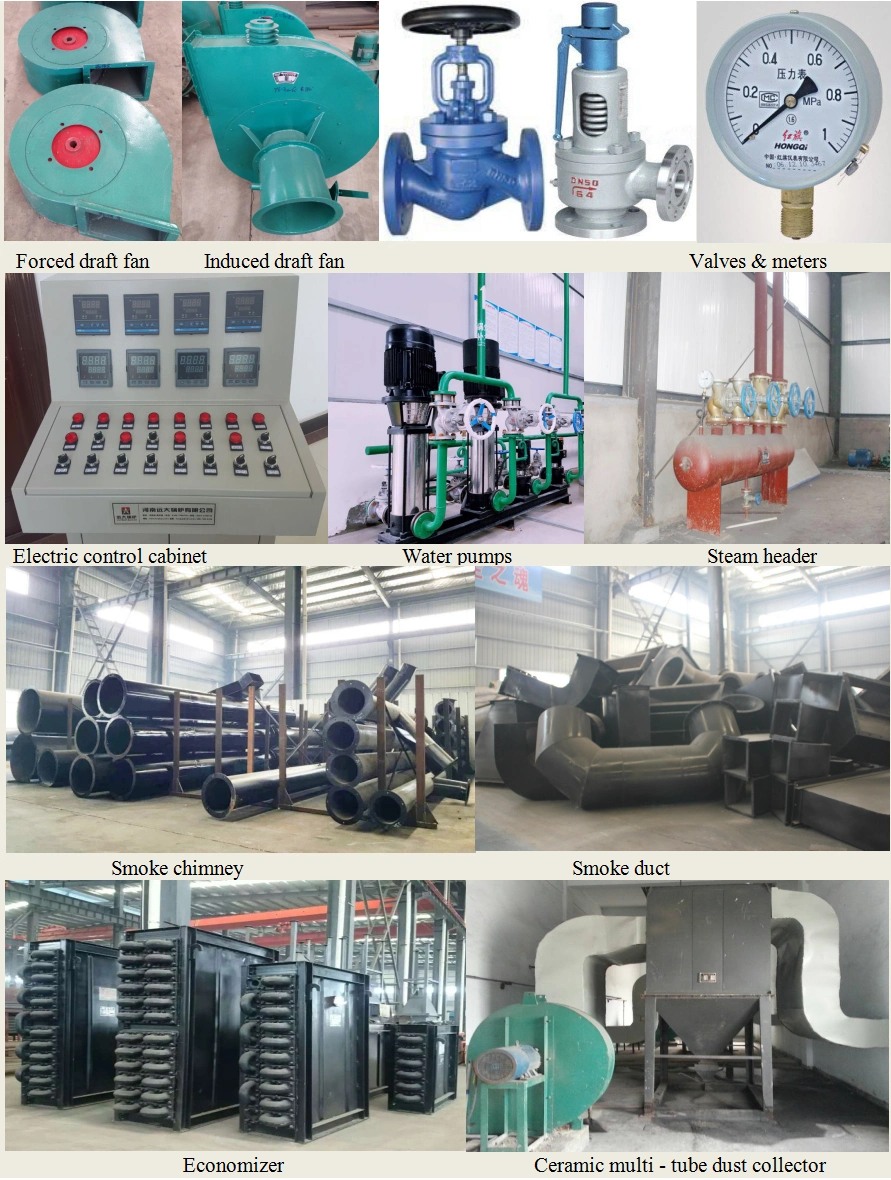 VI.Packaging & Shipping
1. Nude packaging for boiler mian part and wood box packaging for boiler accessories.
2.Normally we use 20 container, 40container or 20 flat rack container and 40 flat rack container to load it.
3.All goods will be reforced after packing into containers.
4. We have stable shipping company to cooperate. They will confirm the safty of the goods.
5. Shipping way is different according to customer's country. Mostly by sea. Some country by train.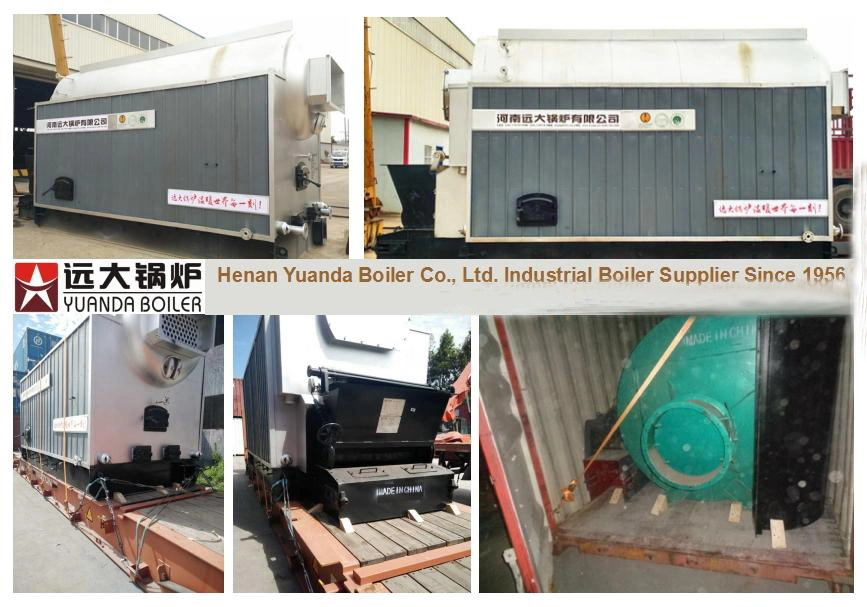 VII.our service
Pre-sale service:
We help customer choose the best boiler model according to different requirements of various industry. Before delivery we will provide foundation drawing, layout drawing, boiler room layout, etc.
In-sale service:
We keep 24 hours online and keep close contacts during the production process to ensure on time delivery with perfect finished product.
After-sale service:
1.provide full range of original spare parts.
2.Engineers abroad installation and commissioning service is available.
3.Our engineers will held a training for boiler workers to ensure the safe operation.
Training content:
(1)Boiler basic knowledge
(2)Boiler structure introduction on site
(3)Boiler control theory
(4)Boiler burner theory and adjusting method
(5)Boiler water treatment introduction and water quality test method
(6)Boiler operation training
(7)Boiler room system introduction
(8)Boiler debugging introduction
(9)Introduction of Boiler faults, reason and solution
(10)Field simulation solves all kinds of common failures
(11)Boiler maintenance introduction
(12)answer questions and test
4.Free maintenance and repair for one year and lifelong service.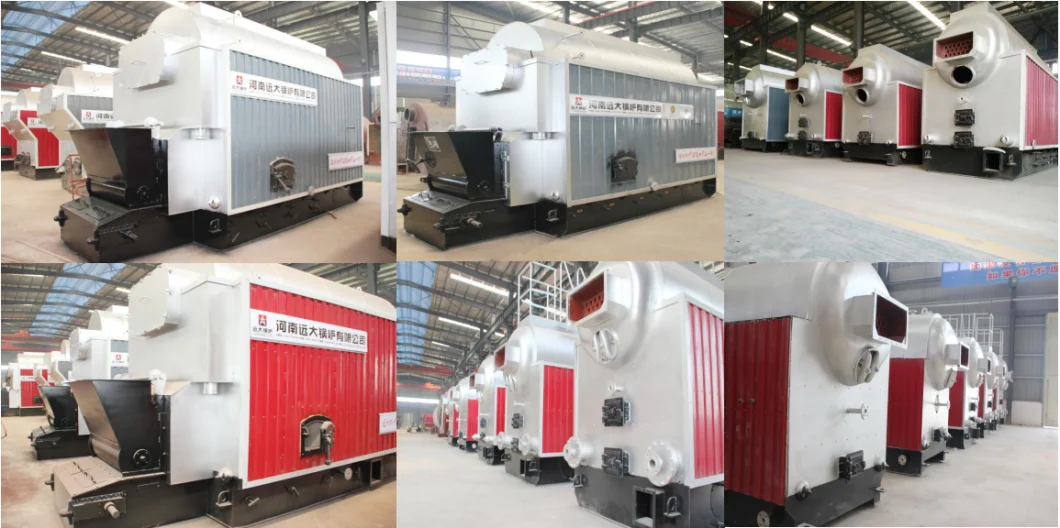 VIII.Company introduction
Henan Yuanda Boiler Co., Ltd,Class A boiler manufacturer. Established in 1956,locates in Xihua County, Henan province, the central part of China.
We are professional manufacturer and supplier for industrial boilers, with 12 years' experience in boiler design, production, installation and commissioning. Our company is one of the enterprises which obtained boiler manufacturing license in China.
We have our own R & D team and cooperate with famous high-tech research institutes at the same time, which ensures our products in the forefront of technology and science.
By the end of 2018, we have exports to 86 countries worldwide and have successfully supplied tailor made solutions for over 100,000 customers.
Our main products are:
(1)WNS Gas oil fired steam boiler and hot water boiler
(2) DZL / DZH Coal / wood fired steam boiler and hot water boiler
(3) SZL Biomass fired steam boiler and hot water boiler
(4) YY(Q)W Gas oil fired thermal oil boiler
(5) YLW Coal biomass fired thermal oil boiler
(6) All kinds of pressure vessels
Yuanda Boiler has been committed to improving efficiency and safety of boilers to provide safe, energy saving and environmental friendly products. We look forward to making a brilliant future with you.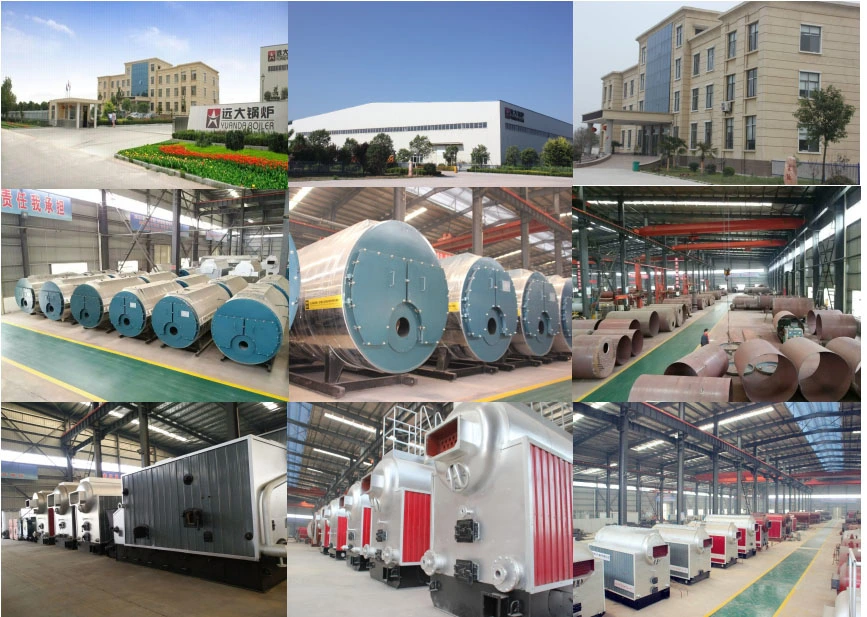 IX.Contact us