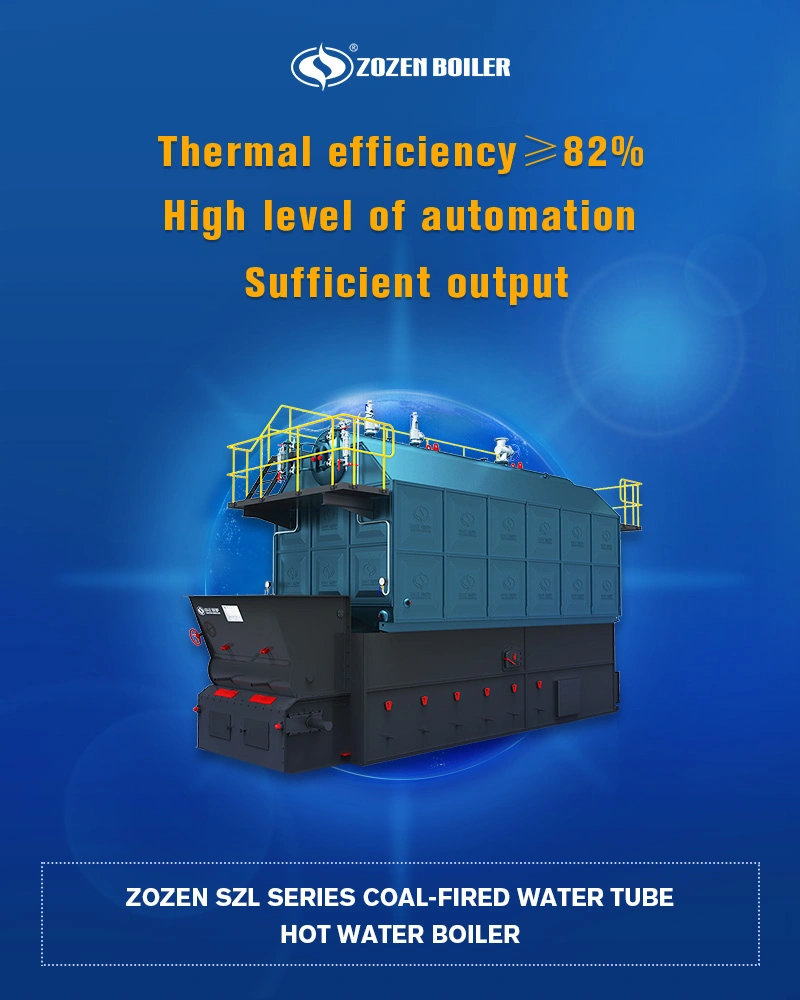 This is a coal-fired horizontal double-drum hot water boiler. Simply, it consists of steam drum, water drum, convection tubes, insulation lay, steel coat, coal feeder, chain grate furnace and so on.
1. Boiler Features:
- After simplifying the water-cycle route, we can reduce the water-cycle resistance, raise ascending tube velocity, improve the stability of the water cycle and ensure a safe and stable operation.
- Design enough heating surface, which makes more heat from fuel absorbed. Flue smoke temperature can be lower than 170ºC.
- Reasonably design front and back arch to improve the temperature in the furnace. We also strengthen the disturbance of smoke in the high temperature area. These reduce heat lose and fly ash loss as a result of incomplete combustion.
- We adopt light chain grate and independent air chamber. We strengthen the seal airtight of the two sides of chain grates. These make the fuel burn fast and fully.
- Our boiler have a large convection heating surface, a stable performance and even a long time overload work. What's more, we design the convection tube bundles in alternate permutation instead of in-line arrangement. All of these designs make our boilers obtain a higher heat efficiency than normal, up to 81%.
- We design double side air inlet and independent air plenum. And at the exit of furnace, we set up a smoke separation device by inertia, which makes the original discharging dust concentration lower than 1800 mg/Nm3. Our high efficiency dust collector makes sure the dust removal efficiency up t0 90%, SOX and NOX removal efficiency up to 98%. These measures can meet the global demands and standards of environmental protection.
- Compact structures are designed, except the 2.8MW and 4.2MW packaged steam boiler. That can save boiler house and reduce the installation workload and time.
- We enlarge the diameter of steam drum to supply a big space of water-steam separation device. So that we can offer steam in good quality.
- High automatization, safe and easy operation. In the electrical control cabinet, we design automatic feeding water, alarm and safety interlock of high/low water level, air blower and draft fan.
2. Control and safety systems
The control and safety systems are interlocked in an electric control cabinet.
- Sound-light alarm of high and super-high steam pressure;
- Sound-light alarm of high and lowe water limit level;
- Sound-light alarm of pressure loss in the water pumps;
- More safety devices are designed and connected with the electric control cabinet (ECC). More details will be explained in the ECC Manual.
3. World market
Nowadays, we have exported our boilers to the following countries: India, Indonesia, Pakistan, Malaysia, Thailand, Laos, Vietnam, Bengal, Philippines, Taiwan China, Papua New Guine, France, Finland, Turkey, Serbia, Lithuania, Bulgaria, Russia, Mongolia, Venezuela, Chile, Colombia, Mauritius, South Africa, Ethiopia, Algeria, Nigeria, Tanzania, Oman, UAE, etc.
4. Total Integration goes far beyond boilers
Efficiency and quality don't end with our boilers. ZOZEN complete integration produces the most efficient boiler solutions in the world. Completely designed, engineered, manufactured, integrated, and serviced by our team, our systems don't have a single outsourced component to jeopardize compatibility or performance. If you are looking for the bestquality boiler systems with the lowest emissions and highest efficiencies, you are looking for Zozen.
5. Boiler specification
| | |
| --- | --- |
| Product thermal capacity: | 2.8-29 MW |
| Working pressure: | 1.0-1.25 MPA |
| Outlet temperature: | 95/70ºC, 115/70ºC |
| Available fuel: | Bituminous coal, lean coal, anthracite |
| Available industries: | Heating, hotels, schools, hospitals |
| | | | | |
| --- | --- | --- | --- | --- |
| Model | Rated thermal power(MW) | Rated working pressure(MPa) | Rated output water temperature(ºC) | Return water temperature(ºC) |
| SZL2.8-0.7/95/70-All | 2.8 | 0.7 | 95 | 70 |
| SZL4.2-1.0/115/70-AII | 4.2 | 1 | 115 | 70 |
| SZL5.6-1.0/115/70-AII | 5.6 | 1.0 | 115 | 70 |
| SZL5.6-1.25/130/70-AII | 5.6 | 1.25 | 130 | 70 |
| SZL7.0-1.0/115/70-AII | 7 | 1.0 | 115 | 70 |
| SZL7.0-1.25/130/70-AII | 7 | 1.25 | 130 | 70 |
| SZL14-1.0/115/70-AII | 14 | 1.0 | 115 | 70 |
| SZL14-1.25/130/70-AII | 14 | 1.25 | 130 | 70 |
| SZL21-1.0/115/70-AII | 21 | 1.0 | 115 | 70 |
| SZL21-1.25/130/70-AII | 21 | 1.25 | 130 | 70 |
| SZL29-1.0/115/70-AII | 29 | 1.0 | 115 | 70 |
| SZL29-1.25/130/70-All | 5.6 | 1.25 | 130 | 70 |