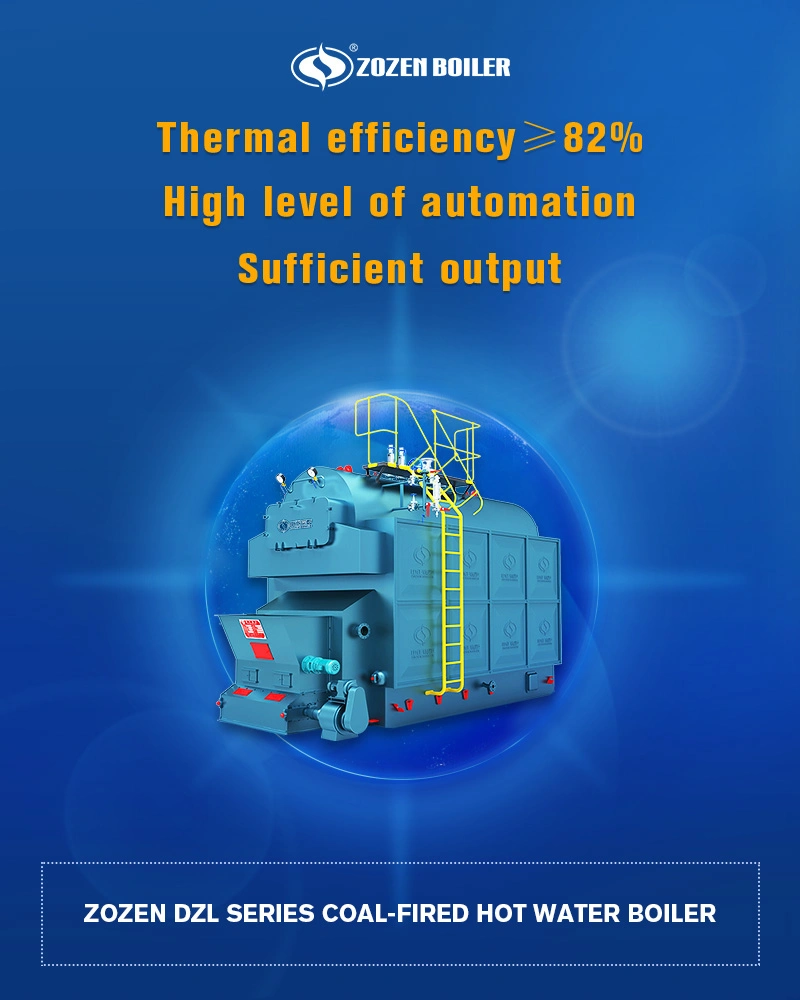 Introduction

DZL series package boilers are horizontal three-pass water & fire tube boilers with a chain grate stoker structure. Threaded pyrotechnic tubes are arranged in the drum to form a convection heating surface, while the drum and the water walls on both sides form a radiation heating surface in the furnace. Each package system is fully installed and wired before being transported to site and is electrically controlled to provide functions such as stepless speed regulation for the stoker, threshold parameter alert and interlock protection.
1. Boilers Features
- Strong output and be steady
- Small dimension and space-saving
- No need special protection when power failure happens suddenly
- High heat efficiency
- Rapid heating
- Lower emission
- Short installation time
2. Control Systems
The control and safety systems are interlocked in an electric control cabinet.
- Sound-light alarm of high and super-high pressure;
- Sound-light alarm of high and lowe water limit level;
- Sound-light alarm of pressure loss in the water pumps;
- More safety devices are designed and connected with the electric control cabinet (ECC).
3. Global Market
Nowadays, we have exported our boilers to the following countries: India, Indonesia, Pakistan, Malaysia, Thailand, Laos, Vietnam, Bengal, Philippines, Taiwan China, Papua New Guine, France, Finland, Turkey, Serbia, Lithuania, Bulgaria, Russia, Mongolia, Venezuela, Chile, Colombia, Mauritius, South Africa, Ethiopia, Algeria, Nigeria, Tanzania, Oman, UAE, etc.
4. Total integration goes far beyond boilers
Efficiency and quality don't end with our boilers. ZOZEN complete integration produces the most efficient boiler solutions in the world. Completely designed, engineered, manufactured, integrated, and serviced by our team, our systems don't have a single outsourced component to jeopardize compatibility or performance. If you are looking for the best-quality boiler systems with the lowest emissions and highest efficiencies, you are looking for Zozen.
5. Boilers Specification
| | |
| --- | --- |
| Product thermal capacity: | 1.4-14 MW |
| Working pressure: | 0.7-1.25 MPA |
| Outlet temperature: | 115/70, 95/70ºC |
| Available fuel: | Bituminous Coal,Lean Coal,Anthracite |
| Available industries: | Heating, Hotels, Schools, Hospitals |
Boiler Model
DZL0.7-0.7/95/70-A II
DZL1.4-0.7/95/70-A II
DZL2.8-0.7/95/70-A II
DZL4.2-1.0/115/70-A II
DZL7-1.0/115/70-A II
Heat Capacity(MW)
0.7
1.4
2.8
4.2
7
Working Pressure (MPa)
0.7
0.7
0.7
1.0
1.0
Outlet Water Temperature(°C)
95
95
95
115
115
Inlet Water Temperature(°C)
70
70
70
70
70
Heating Area
Body (m2)
32.4
59.3
89.16
126.7
251
Economizer(m2)
12.51
28.16
38.5
78.5
174.4
Effective Grate Area (m2)
2.05
3.7
5.3
7.8
11.8
Body Water Volume (m3)
3.6
6.5
9.2
12.3
16.5
Heat Efficiency (%)
79
79
79
79
79
Available Fuel
A II Bituminous Coal
A II Bituminous Coal
A II Bituminous Coal
A II Bituminous Coal
A II Bituminous Coal
Fuel Consumption (Kg/h)
151
302
600
888
1447
Max. Transport Size (m)
5.2×2.0×2.9
5.7×2.5×3.5
6.3×2.6×3.6
7.3×3.2×3.6
7.2×3.3×3.6
Max. Transport Weight (t)
13
25
26.7
36.1
25
Overall Size after Installation (m)
6.0×3.5×4.1
6.0×3.9×5.0
7.2×4.0×4.9
8.0×5.1×4.6
8.2×3.6×6.5