China Best Manufacturer 2 Ton Diesel Oil Heavy Oil Gas Fired Steam Boiler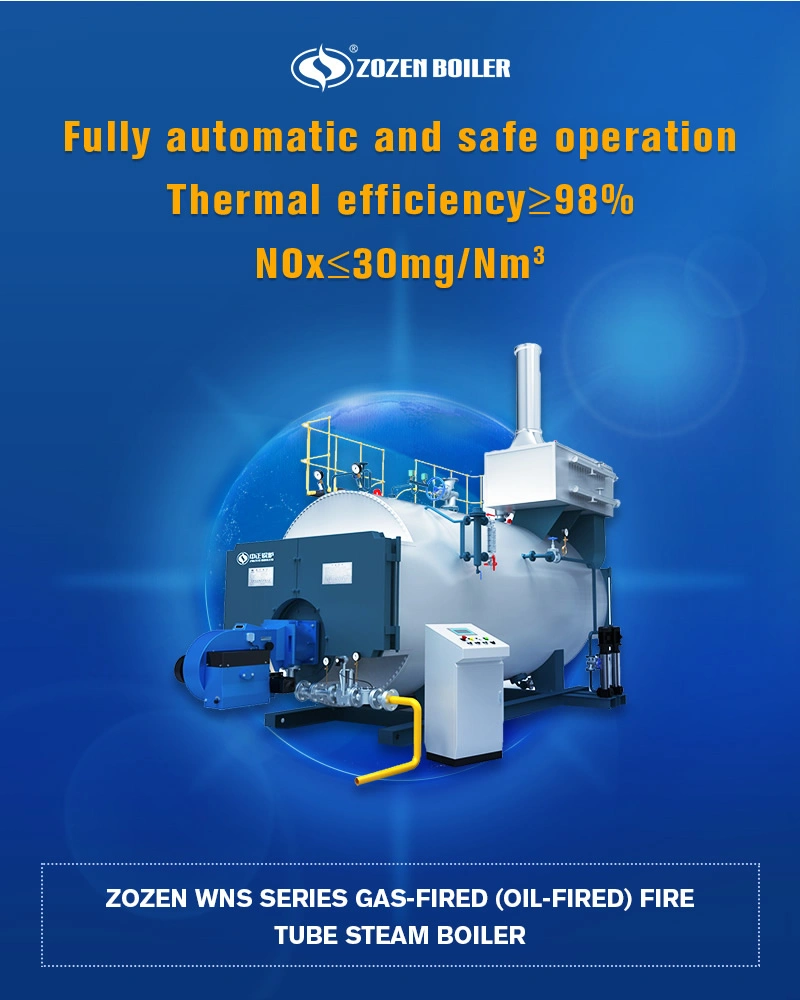 Introduction
WNS series horizontal internal combustion boiler is a boiler shell type 3 passes wetback oil/gas fired boiler. After fuel is being atomized by burner, flame is full of the wave furnace and transfer heat via furnace wall, this is 1st pass; the high temperature smoke is collected in reversal chamber and then enters 2nd pass which is grooved tubes bundle area; after heat convection, air temperature gradually falls and goes to front smoke box and turn to 3rd pass, which is smooth tubes bundle area, and then enters chimney passing back smoke box and exhausted to the atmosphere.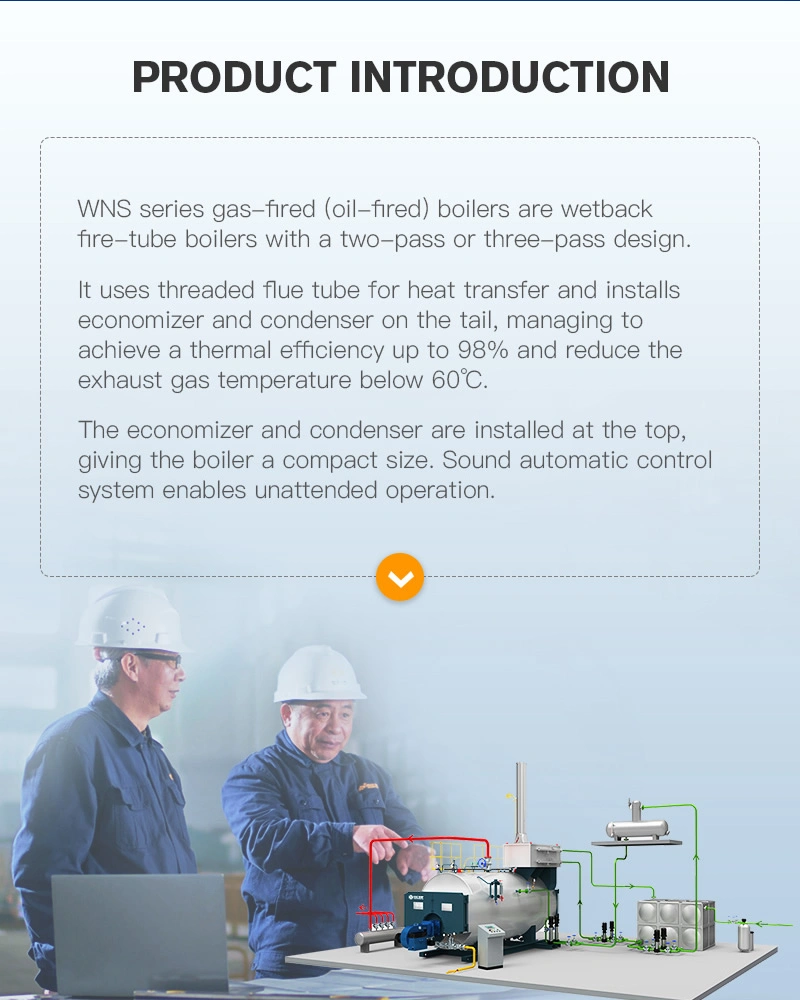 This gas boiler consists of threaded firetubes, corrugated furnace, boiler shell, insulation lay, stainless steel coat, instrument valves and an integral burner.
1. Boiler Features:
1.1 Long working life
3-pass and wet-back are designed to avoid the damage of back tube sheet from the high temperature smoke.
1.2 Compact desegn
Threaded firetube and corrugated furnace are used to increase the heating area. That allows over 30% of the energy to be absorbed in the furnace. This means a shorter boiler overall. Definitely, it can save your boiler room construction costs.
1.3 New type economizer
It is made by finned ND tubes. It is smaller but the heat exchanging area is bigger than normal. By calculation, It can save around 5% fuel.
1.4 Low emissions
Lowering emissions in the ZOZEN-WNS series of boiler involves two key factors:
(1) advanced burner solution;
(2) the proper sizing of furnace to minimize nitrogen oxides and other contaminants from forming during the combustion process.
1.5 Safety control system
We design the safety interlock system with multiple protection and alarm functions
- Protection program of automatic ignition
- Locking and protection program of operation
- Protection program of extinction
- Protection program of completion
- Protection program of water pumps (pressure loss)
- Protection program of ignition failure
- Protection program of combustion engine malfunction
- Protection program of combustion engine flameout
- Sound-light alarm of high pressure
- Sound-light alarm of high limit water level
- Sound-light alarm of low limit water level
- Sound-light alarm of super-high temperature of hot water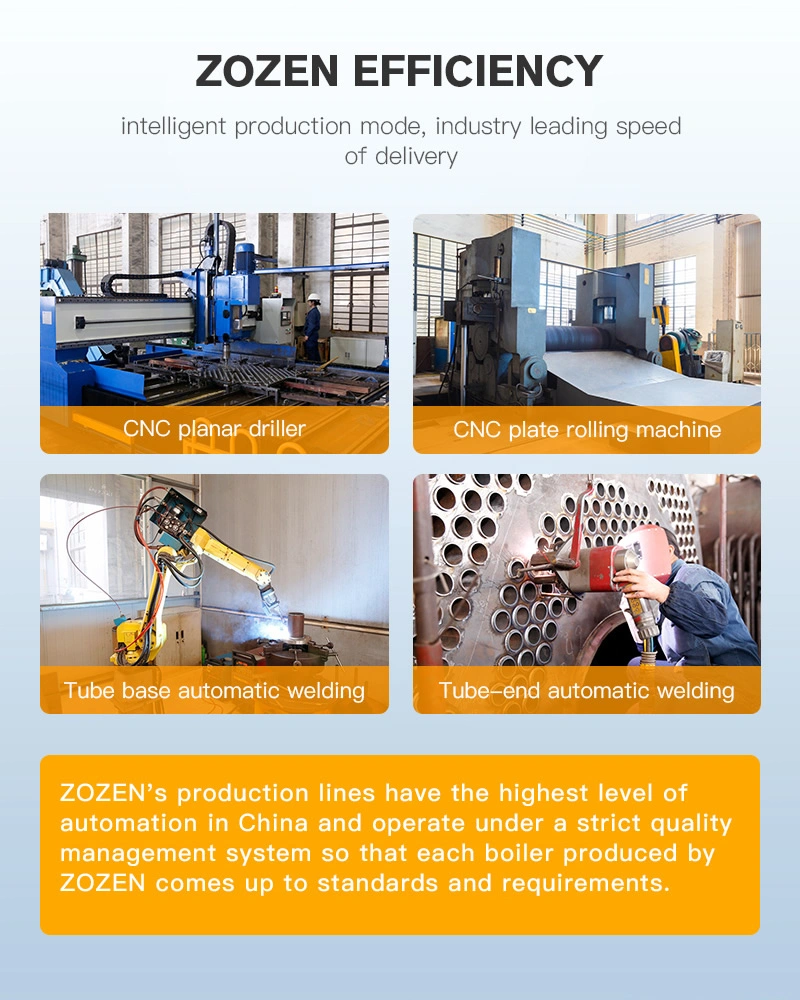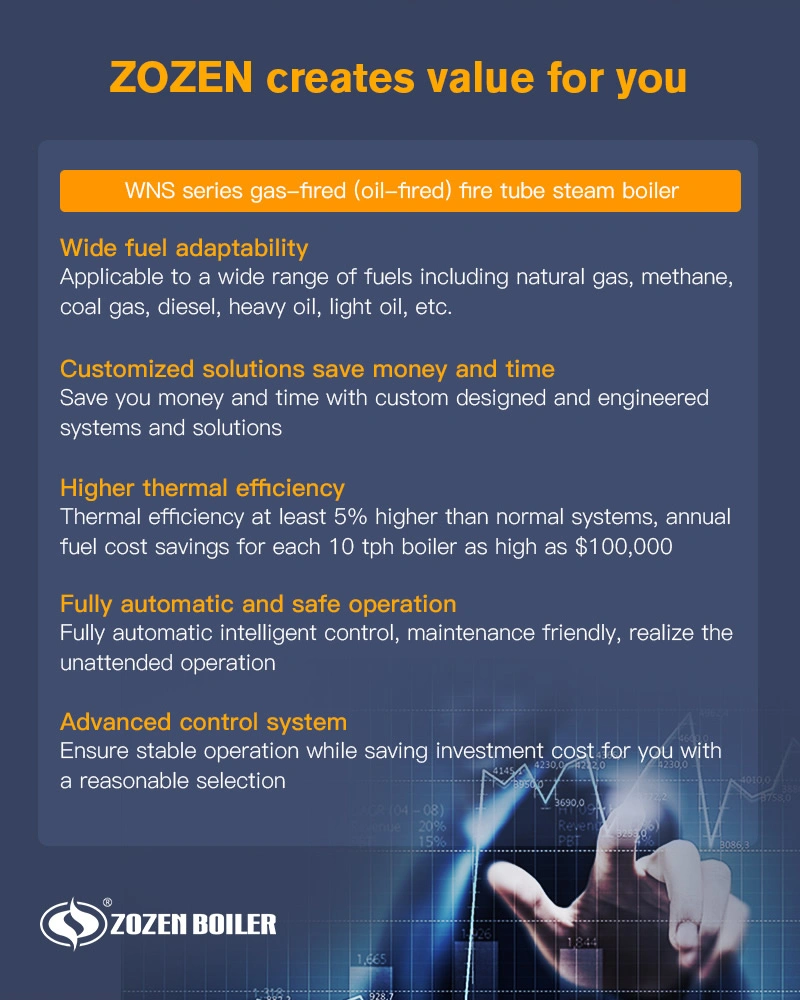 2. Our market in the world
Nowadays, we have exported our boilers to the following countries: India, Indonesia, Pakistan, Malaysia, Thailand, Laos, Vietnam, Bengal, Philippines, Taiwan China, Papua New Guine, France, Finland, Turkey, Serbia, Lithuania, Bulgaria, Russia, Mongolia, Venezuela, Chile, Colombia, Mauritius, South Africa, Ethiopia, Algeria, Nigeria, Tanzania, Oman, UAE, etc.
3. Total Integration goes far beyond boilers
Efficiency and quality don't end with our boilers. ZOZEN complete integration produces the most efficient boiler solutions in the world. Completely designed, engineered, manufactured, integrated, and serviced by our team, our systems don't have a single outsourced component to jeopardize compatibility or performance. If you are looking for the best-quality boiler systems with the lowest emissions and highest efficiencies, you are looking for Zozen.
4. Boiler Specification
| | | | | | | |
| --- | --- | --- | --- | --- | --- | --- |
| Model | Steam Capacity | Steam Pressure | Steam Temperature | Shipping Weight | Shipping Dimension | Heat Efficiency |
| WNS1-0.7-Y(Q) | 1 t/h | 0.7 Mpa | 170 ºC | 4.0 t | 3.6x2.0x2.0 (m) | >90% |
| WNS1-1.0-Y(Q) | 1 t/h | 1.0 Mpa | 184 ºC | 4.0 t | 3.6x2.0x2.0 (m) | >90% |
| WNS1.5-1.0-Y(Q) | 1.5 t/h | 1.0 Mpa | 184 ºC | 4.5 t | 3.8x2.0x2.0 (m) | >90% |
| WNS1.5-1.25-Y(Q) | 1.5 t/h | 1.25 Mpa | 194 ºC | 4.5 t | 3.8x2.0x2.0 (m) | >90% |
| WNS2-1.0-Y(Q) | 2 t/h | 1.0 Mpa | 184 ºC | 8.5 t | 4.86x2.5x2.46 (m) | >90.2% |
| WNS2-1.25-Y(Q) | 2 t/h | 1.25 Mpa | 194 ºC | 8.5 t | 4.86x2.5x2.46 (m) | >90.2% |
| WNS3-1.0-Y(Q) | 3 t/h | 1.0 Mpa | 184 ºC | 8.9 t | 5.3x2.5x2.5 (m) | >90.5% |
| WNS3-1.25-Y(Q) | 3 t/h | 1.25 Mpa | 194 ºC | 8.9 t | 5.3x2.5x2.5 (m) | >90.5% |
| WNS4-1.6-Y(Q) | 4 t/h | 1.25 Mpa | 194 ºC | 13.3 t | 5.84x2.85x2.8 (m) | >91.3% |
| WNS4-1.6-Y(Q) | 4 t/h | 1.6 Mpa | 204 ºC | 13.3 t | 5.84x2.85x2.8 (m) | >91.3% |
| WNS5-125-Y(Q) | 5 t/h | 1.25 Mpa | 194 ºC | 14.3 t | 6.3x2.9x2.8 (m) | >91.3% |
| WNS5-1.6-Y(Q) | 5 t/h | 1.6 Mpa | 204 ºC | 14.3 t | 6.3x2.9x2.8 (m) | >91.3% |
| WNS6-1.25-Y(Q) | 6 t/h | 1.25 Mpa | 194 ºC | 19.5 t | 7.25x3.1x3.15 (m) | >91.2% |
| WNS6-1.6-Y(Q) | 6 t/h | 1.6 Mpa | 204 ºC | 19.5 t | 7.25x3.1x3.15 (m) | >91.2% |
| WNS8-1.25-Y(Q) | 8 t/h | 1.25 Mpa | 194 ºC | 22.6 t | 7.45x3.26x3.2 (m) | >91.6% |
| WNS8-1.6-Y(Q) | 8 t/h | 1.6 Mpa | 204 ºC | 22.6 t | 7.45x3.26x3.2 (m) | >91.6% |
| WNS10-1.25-Y(Q) | 10 t/h | 1.25 Mpa | 194 ºC | 25.8 t | 8.73x3.26x3.2 (m) | >91.8% |
| WNS10-1.6-Y(Q) | 10 t/h | 1.6 Mpa | 204 ºC | 25.8 t | 8.73x3.26x3.2 (m) | >91.8% |
| WNS15-1.25-Y(Q) | 15 t/h | 1.25 Mpa | 194 ºC | 34.7 t | 8.73x3.74x3.51 (m) | >91.9% |
| WNS15-1.6-Y(Q) | 15 t/h | 1.6 Mpa | 204 ºC | 34.7 t | 8.73x3.74x3.51 (m) | >91.9% |
| WNS20-1.25-Y(Q) | 20 t/h | 1.25 Mpa | 194 ºC | 46 t | 10.2x3.6x4.02 (m) | >92% |
| WNS20-1.6-Y(Q) | 20 t/h | 1.6 Mpa | 204 ºC | 46 t | 10.2x3.6x4.02 (m) | >92% |