Ce/ISO Approved 1500L/H RO Water Purification Equipment/Demineralized Water Treatment Plant
Tips: one gallon=3.785 liters, 1m3=1ton=1000 liters
1.Introduction of Reverse Osmosis (RO) System
The reverse osmosis(RO) water treatment plant is an equipment to purify water with the action of pressure difference of semi permeable membrane. RO membranes can effectively remove majority of organics, harmful substances, bacteria, particulates etc in the raw water. RO system is widely used in water treatment, purification for tap water, well water, underground water, borehole salty water, brackish water and seawater, pure water and ultra-pure water production, power stations, electronic industries, cosmetics production, medicine(pharmaceutical
) manufactories, and medical treatment(such as hemodialysis). It is a key equipment for pure water plant and ultrapure water equipment.
2.Working Process
raw water→ raw water pump→quartz sand filter→activated carbon filter →security filter →one stage high pressure pump→one stage RO system →UV light/ozone generator →water supply point

1500 liter per hour ro water pure water system drinking water treatment plant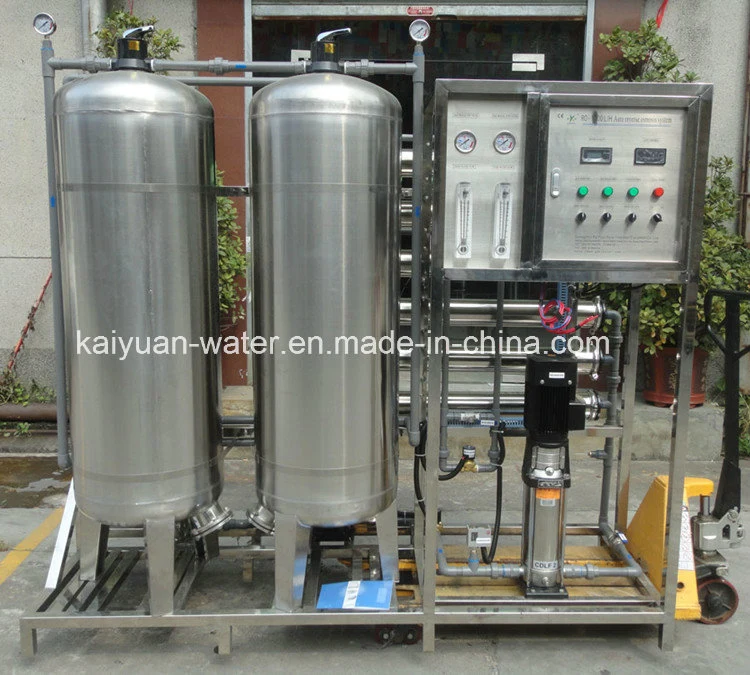 3.Main parameters of this reverse osmosis water purification system
For detailed specification, kindly contact our sales person.
Model

KYRO-1500

Production capacity

1500L/H

Power supply

380V 50Hz 3Phase or 220V 50Hz single phase

Power

3kw

Raw water pump

Nanfang Hangzhou

Quartz sand filter& activated carbo

n filter

φ400×1650 stainless steel 2pcs

Security filter

20 "× 5μm , 7cores

High pressure pump

Nanfang Hangzhou

Quartz sand

200kg

Activated carbon

75kg

Reverse osmosis (RO)membrane

LCLE-4040 USA DOW 6pcs

Membrane housing

4040 6pcs

UV sterilizer

40W 1500L/H
4. Other product we manufactured you may like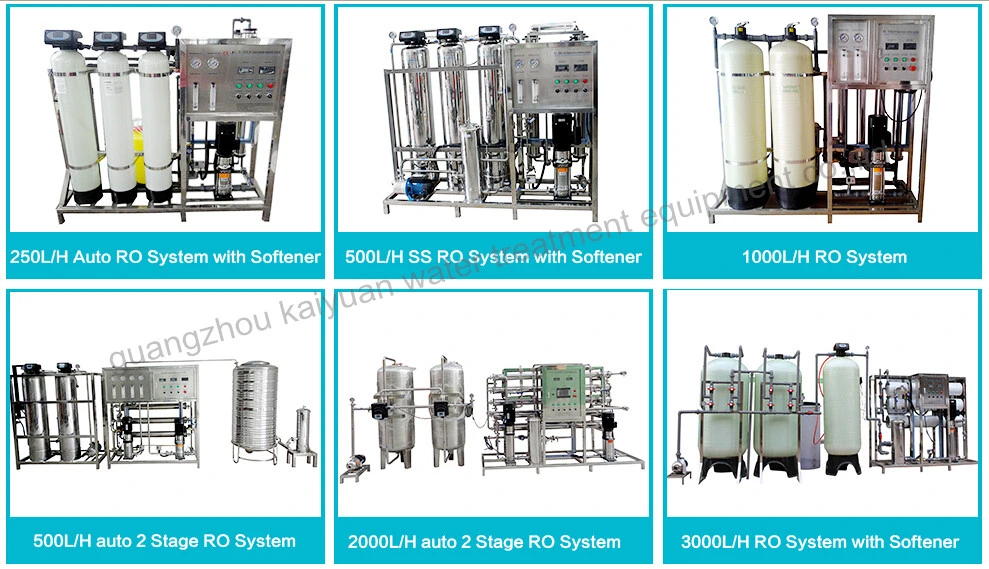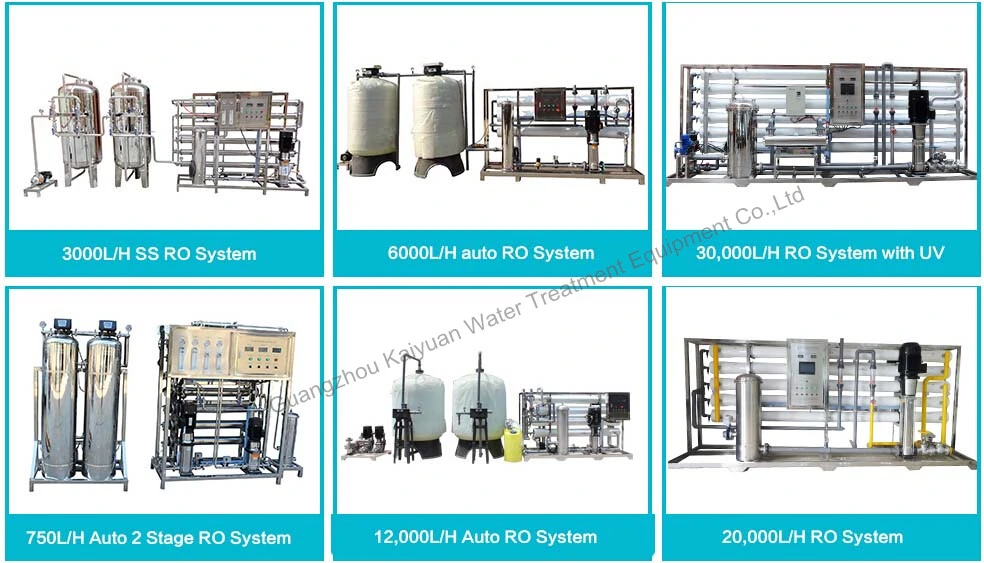 5. Every part function of the water purification system
| | | | |
| --- | --- | --- | --- |
| S/N | Commodity name | Application | Remark |
| 1 | Raw water tank | Store water, buffering pressure, overcome instability of supplying water by pipe, ensure to supply water stably and continuously for whole system | Customer provides for themselves, because big size will result in expensive freight. |
| 2 | Raw water pump or called booster pump | Provide needed pressure for every pretreatment filter | We can provide CNP pumps |
| 3 | Mechanical filter or called quartz sand filter or sand filter | We use fiber glass or stainless steel vessel as housing, fill quarts sand, it can filter big particles impurities, suspended substances, colloids etc. | |
| 4 | Activated carbon filter | We use fiber glass or stainless steel vessel as housing, fill activated carbon, remove color, odor, residual chlorine and organics substances. | |
| 5 | Water softener, demineralizer, or called Na+ exchanger | Adopt cation resin to soften water, cation resin will absorb Ca2+, Mg2+(main elements for composing scale), reduce hardness of raw water, System can make resin intelligently regenerate, recycling | |
| 6 | Security filter or pp filter, or called PP sediment filter | prevent large particles, bacteria, viruses into RO membrane, accuracy is 5µm | |
| 7 | High pressure pump | Provide needed working pressure for RO system, ensure production capacity of pure water. | CNP pump |
| 8 | RO(reverse osmosis) system | Can remove particles, colloids, organic impurities, heavy metal ions, bacteria, virus, heat source etc. harmful substances and 99% dissolved salts. | RO membranes USA Filmtec Dow |
| 9 | UV sterilizer or ozone machine | Control level of microbial,killing 99.99% bacteria, virus, germ. | BNP brand Ozone machine |
6.Production capacity we can provide as below
Model

Flow rate (L/h)

Power(KW)

Water use efficiency

RO membrane

Dimension L X W X H(mm)

KYRO-250

250

1.5

≥ 15%

4040

1550X620X1670

KYRO-500

500

1.5

≥ 50%

4040

1650X630X1800

KYRO-750

750

2.5

≥ 50%

4040

1870X 630 X 1850

KYRO-1000

1000

2.5

≥ 50%

4040

1870X 650 X 1850

KYRO-2000

2000

3.5

≥ 50%

4040

2440X650X1750

(host machine)

KYRO-3000

3000

4

≥ 50%

4040

2440X620X1850 (host machine)

KYRO-5000

5000

7.5

≥ 50%

8040

2000X900X1800 (host machine)

KYRO-6000

6000

9.5

≥ 60%

8040

3000X900X1800 (host machine)

KYRO-8000

8000

13.5

≥ 60%

8040

3000×900×1800 (host machine)

KYRO-9000

9000

14

≥ 60%

8040

4000X900X1800 (host machine)

KYRO-10T

10T/H

19

≥ 60%

8040

3000X900X1800 (host machine)

KYRO-12T

12T/H

19.5

≥ 60%

8040

4000X900X1800 (host machine)

KYRO-15T

15T/H

23

≥ 60%

8040

4000X900X1950 (host machine)

KYRO-20T

20T/H

28

≥ 60%

8040

5000X900X1950 (host machine)

KYRO-30T

30T/H

55

≥ 60%

8040

7000X900X1950 (host machine)
7.Features and Advantages
1.System can produce water continuously and high degree automation.
2.No need chemical to regenerate, easy operation and maintenance.
3.Core components of ro system are imported USA DOW membranes.
4.Automatic switch on when low water level, and switch off when high water level
5.System flushes RO membranes automatically, reducing membranes polluted speed.
6.Water shortage protection for multi-stage pump
7.Product water conductivity meter can monitor water quality online continuously.
8.Low operation cost and long life span
9. There's RO controller, make whole RO system operating automatically.
10.Easily control and Maintained.
11. Auto flush and backwash the prefilters
12. Integrating water flow indicator, conductivity indicator, pressure indicator, control panel

8.Application fields:
1)Electronic industry, semiconductor industry ultrapure water treatment
2)Chemical industry, pharmaceutical industry pure water treatment
3)Food, beverage, drinking water, bottled drinking water, sachet/pouch packing pure drinking water treatment
4)Electroplating and leather industry waste water treatment
5)Brackish water desalination, sea water desalination, metallurgy and light industry pure water treatment
6)Cosmetic products, car battery, liquid fertilizer production pure water treatment
7)Edible cube ice, tube ice etc.
8)School, hotel, hospital, laboratory, surface treatment, hydraulic test, industrial boiler, power station boiler, high pressure boiler water treatment

9. Our company profile
Guangzhou Kaiyuan Water Treatment Equipment Co.,Ltd, factory is located in Baiyun district, Guangzhou city(Near airport). We are specialized in manufacturing reverse osmosis(RO) water treatment equipments. The RO system can purify tap water, underground water, river water and seawater to drinking pure water.The RO water purification machine is applied in pharmaceutical area, bottled water production line, chemicals industry, cosmetic production etc.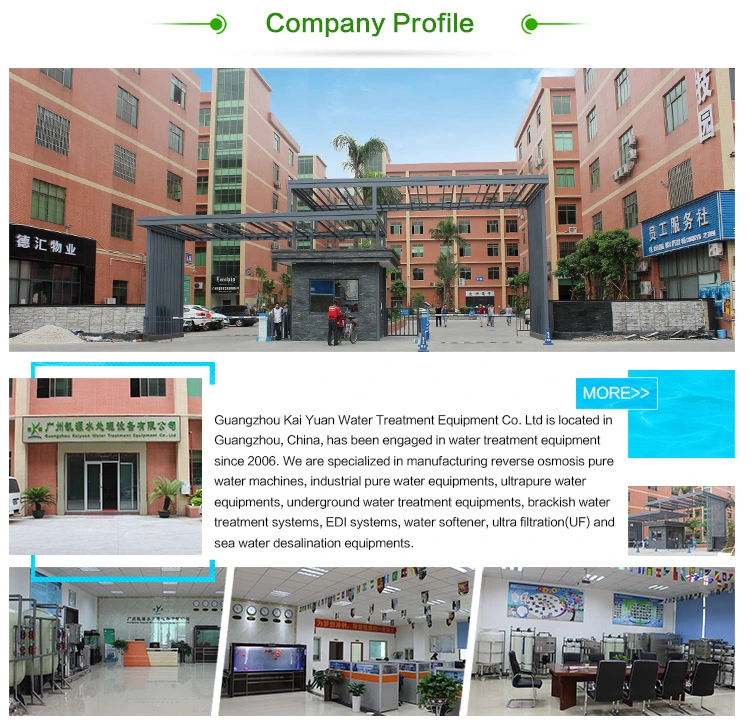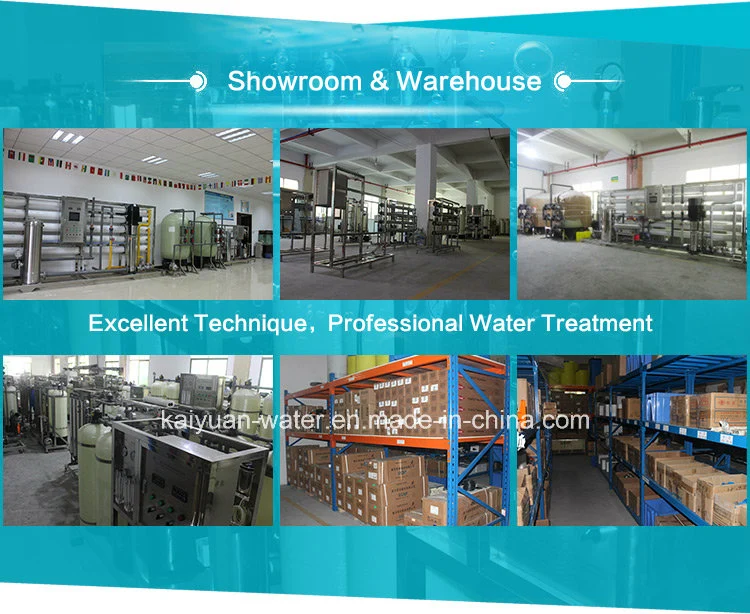 10. FAQ
Q: What is Reverse Osmosis(RO)?
A: Reverse osmosis (RO) is a water treatment process in which water is forced through a semi-permeable membrane that has very small holes or "pores". Clean water passes through and impurities that are too big to pass through the membrane are left behind and flushed away.
Q: How Does Reverse Osmosis Work?
A: Reverse osmosis systems purify water by forcing pressurized water through a very fine, plastic membrane. If the raw water being treated comes from a well or another private source, disinfection and pre-filters (to remove chlorine and/or particulates/sediment) may be needed in advance of the RO unit to remove contaminants that can foul or damage the membrane.

Q: How Do I Know Which Capacity to Buy?
A: RO units are rated as per the amount of treated water produced per day or per hour, we have capacity from 250 liter per hour to 100,000 liter per hour, you can choose as your actual requirement, 1 ton=1000 liters , 1m3=1000 liter, 1 gallon=3.785 liters, you can make conversion between unit and unit.
Q: Material of reverse osmosis system?
A: You can choose FRP(fiber glass) filters with U-PVC pipe, stainless steel filters with U-PVC pipe or full stainless steel.
Q: What is packing of this machine? Is it suitable for shipment?
A: Machine will be packed by standard wooden case. It is suitable for shipment. After you receive machine, you only need to open wooden case to pick up machine.

Q: Is this machine easy to install? Will you arrange engineer to help me install?
A: This machine is very easy for install. The machine you received is assembled. You just need to put filter material into filters, connect electric power and feed water, and then backwash, fast rinse prefilters, at first time use, you have to flush RO membranes by regulating inlet water valve and dense water valve, we put labels with English name on every filters and valves and let you know what they are. It is very easy for you to follow our English instruction and video.

Q: How can I pay you?
A: After we confirmed order, I will send you sales contract with our company bank information. You can transfer money to our company bank account by T/T. Or you can pay via Western Union or Alibaba Trade Assurance with credit card, Smartcard or Visa Card. Or do L/C if it is accepted by both of us . If you still don't know how to pay, just call me at +86 15102048719

Q: If there are problems of machine, how can I solve?
A: You can contact me by e-mail or mobile , and then tell me problems, send pictures. If it is in one year warranty time, I will send you spare parts for free. If it is more than 1 year, I will help you to find problems, and you can buy spare parts from me or in locally.
11.Contact us:
Guangzhou Kaiyuan Water Treatment Equipment Co.,Ltd
Add:

Dehui Wanggang Science Park, Industrial 3 Road, Jiahe Wangwang, Baiyun District, Guangzhou, Guangdong Province, China.




Mobile+86-151 0204 8719



Ce/ISO Approved 1500L/H RO Water Purification Equipment/Demineralized Water Treatment Plant