Advantage
1. Inventional patent design heating channel with side-open stand, convenient for heating lamps replacement and machine maintenance;
2. Compact setting preform holders, no chain moving, performs stay in heating channel for longer time heating, saving power consumption.
3. Imported PLC automation control enable non-stop machine parameter adjustment.
4. Suitable for auto production of oil bottles, jars, and irregular neck containers.
5. World famous brand pneumatic components.
6. World famous brand electrical components.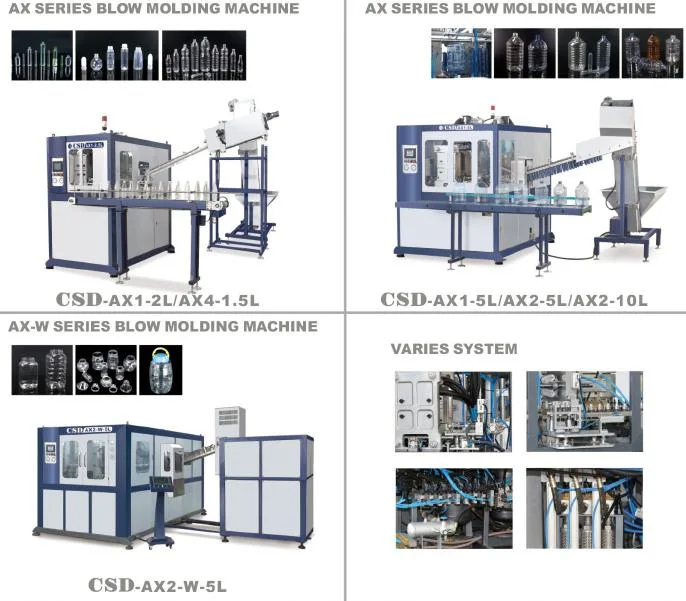 AX SERIES BLOW MOLDING MACHINE
Item
UNIT
CSD-AX1-2.5L
CSD-AX2-2L
CSD-AX3-1.5L
CSD-AX4-1.5L
Cavity
1
2
3
4
Product volume
L
≤ 2.5L
≤ 2L
≤ 1.5L
≤ 1.5L
Recommend Production Capacity
Pcs/h
1100-1600Pcs/h
Based on 500ml bottle,
Preform Neck 28-30mm
Weight: 17gram
2100-2400Pcs/h
Based on 500ml bottle,
Preform Neck 28-30mm
Weight: 17gram
2900-3200Pcs/h
Based on 500ml bottle,
Preform Neck 28-30mm
Weight: 17gram
3900-4200Pcs/h
Based on 500ml bottle,
Preform Neck 28-30mm
Weight: 17gram
Max.Diameter of Product
mm
φ 120
φ 100
φ 90
φ 90
Neck Size of Product
mm
φ 15-φ 38
φ 15-φ 38
φ 15-φ 38
φ 15-φ 38
Useful Area of Mould Plate
mm
200× 350
300× 350
380× 350
480× 350
Mould Thickness
mm
200
200
200
200
Mould Stroke
mm
160
160
110
110
Clamping Force
Kn
120
120
120
210
Stretching Stroke
mm
450
430
430
430
Working Pressure
Mpa
0.8-1.0
0.8-1.0
0.8-1.0
0.8-1.0
Blowing Air Pressure
Mpa
2.6-3.0
2.6-3.0
2.6-3.0
2.6-3.0
Measurement of Main Blower
mm
1820× 1100× 1900
2280× 1500× 1900
2650× 1780× 1900
2810× 2000× 1900
Power of Preheater
Kw
32
36
70
72
A
48
54
105
108
Power of Main Blower
Kw
3
3
5
5
Weight of Main Blower
T
1.5
2
2.5
3
Measurement of Conveyer
mm
2570× 2570× 2700
2570× 2570× 2700
2570× 2570× 2700
2890× 2570× 2700
Weight of Conveyer
T
0.2
0.2
0.2
0.2
HIigh Pressure Air Compressor Unit
Power
Kw
18.5
18.5 x 2
22 x 2
22 x 2
Pressure
Mpa
3.0
3.0
3.0
3.0
Discharging Capa.
m³ /min
1.5
3
4
4
Low Pressure Air Compressor Unit
Power
Kw
___
11
11
22
Pressure
Mpa
___
1.25
1.25
1.25
Discharging Capa.
m³ /min
___
1.6
1.6
3.0
Air Tank
Capacity
M³
___
0.6
0.6
0.6
Working Pressure
MPa
___
3.0
3.0
3.0
Water Chiller
Cooling Capacity
Kcal/h
11900
11900
11900
24090
CompressorMotor
HP
5
5
5
10
Air Filter
Oil Filter
Odor Removal
Filter
Capacity
m³ /min
2
3
4
4
Working Pressure
MPa
3.0
3.0
3.0
3.0
Item
UNIT
CSD-AX1-5L
CSD-AX1-M-5GAL
CSD-AX2-W-5L
CSD-AX2-M-10L
CSD-AX2-M-5L
Cavity
1
1
2
2
2
Product volume
L
≤ 5L
≤ 5GAL
≤ 5L
≤ 10L
≤5L
Recommend Production Capacity
Pcs/h
700-850Pcs/h
Based on 5L bottle,
Preform Neck 45mm
Weight: 93gram
220-240Pcs/h
Based on 5L bottle,
Preform Neck 55mm
Weight: 750gram
1400-1500Pcs/h
Based on 5L bottle,
Preform Neck 45mm
Weight: 93-120gram
1100-1200Pcs/h
Based on 5L bottle,
Preform Neck 45mm
Weight: 93-120gram
1400-1500Pcs/h
Based on 5L bottle,
Preform Neck 80mm
Weight: 93gram
Max.Diameter of Product
mm
φ 170
φ 270
φ 180
φ 200
φ 170
Neck Size of Product
mm
φ 38-φ 45
φ 45-φ 60
φ 60-φ 120
φ 45-φ 60
φ 38-φ 45
Useful Area of Mould Plate
mm
240× 400
400× 570
420× 320
600× 460
550× 400
Mould Thickness
mm
240
400
250
300
240
Mould Stroke
mm
220
330
200
240
220
Clamping Force
Kn
240
300
300
300
240
Stretching Stroke
mm
450
660
380
590
450
Working Pressure
Mpa
0.8-1.0
0.8-1.0
0.8-1.0
0.8-1.0
0.8-1.0
Blowing Air Pressure
Mpa
2.6-3.0
2.6-3.0
2.6-3.0
2.6-3.0
2.6-3.0
Measurement of Main Blower
mm
2350× 1550× 1900
4200× 2000× 2300
3200× 2000× 1900
3200× 2000× 2200
3200× 2000× 2200
Power of Preheater
Kw
48
117
84
60
60
A
72
175
126
90
90
Power of Main Blower
Kw
3
5
5
5
5
Weight of Main Blower
T
2
4.5
3.5
3.5
3.5
Measurement of Conveyer
mm
2570× 2570× 2700
___
___
___
___
Weight of Conveyer
T
0.2
___
___
___
___
HIigh Pressure Air Compressor Unit
Power
Kw
22 x 2
22 x 4
22 x 3
22 x 4
22 x 4
Pressure
Mpa
3.0
3.0
3.0
3.0
3.0
Discharging Capa.
m³ /min
4
6
6
10
8
Low Pressure Air Compressor Unit
Power
Kw
11
22
22
30
22
Pressure
Mpa
1.25
1.25
1.25
1.25
1.25
Discharging Capa.
m³ /min
1.6
3.0
3.0
4.0
3.0
Air Tank
Capacity
M³
0.6
2 x 2
0.6 x 2
2
2
Working Pressure
MPa
3.0
3.0
3.0
3.0
3.0
Water Chiller
Cooling Capacity
Kcal/h
11900
11900
35200
35200
35200
CompressorMotor
HP
5
5
10
10
10
Air Filter
Oil Filter
Odor Removal
Filter
Capacity
m³ /min
1
6
6
10
8
Working Pressure
MPa
3.0
3.0
3.0
3.0
3.0