Best Water Slides Equipment for Sale Popular Water Park Equipment in China Boomerango Slide
Boomerang slide specification
| | |
| --- | --- |
| Tower height | 18.5m |
| Width | 2.5m - 9.8m |
| Raft capacity | 4 person/raft |
| Floor space | 60m x 27m |
| Technology | RTM |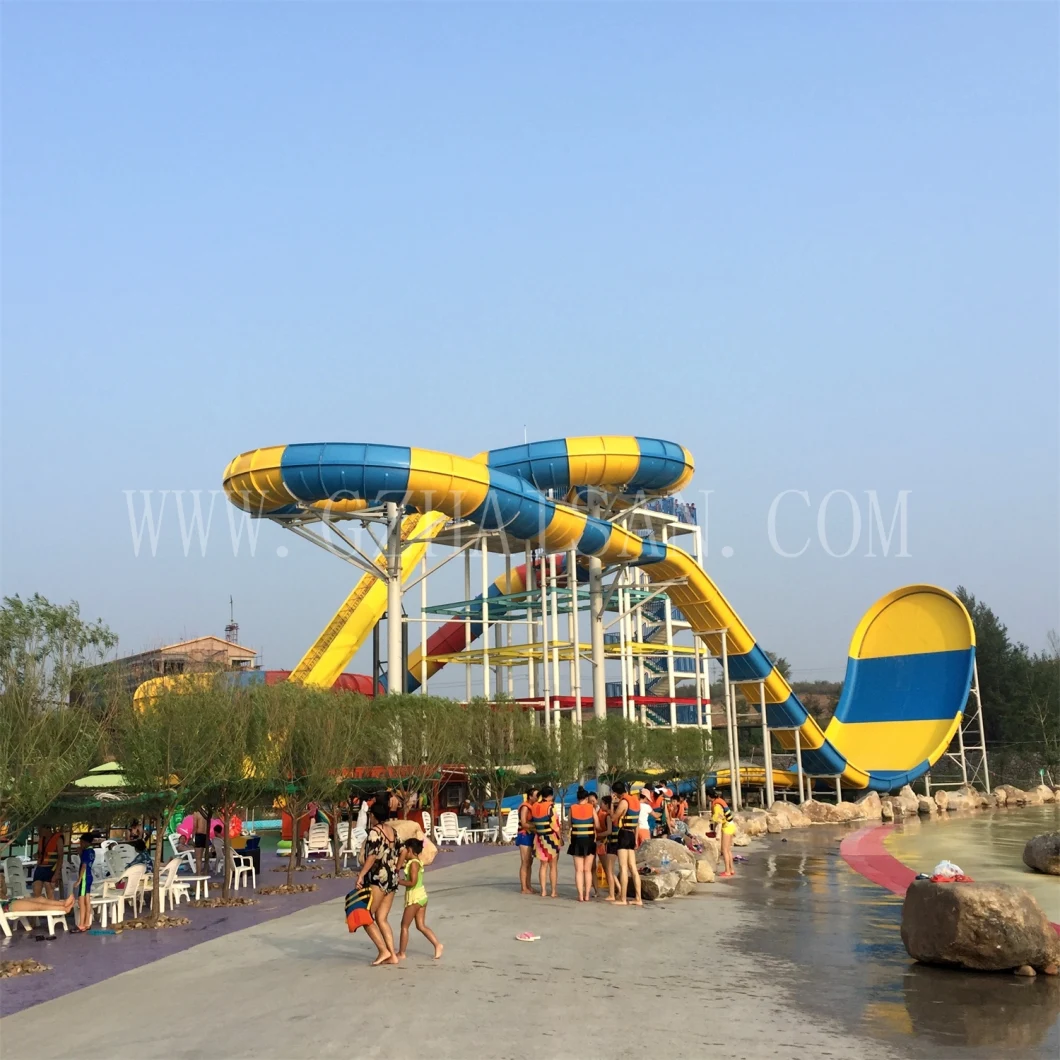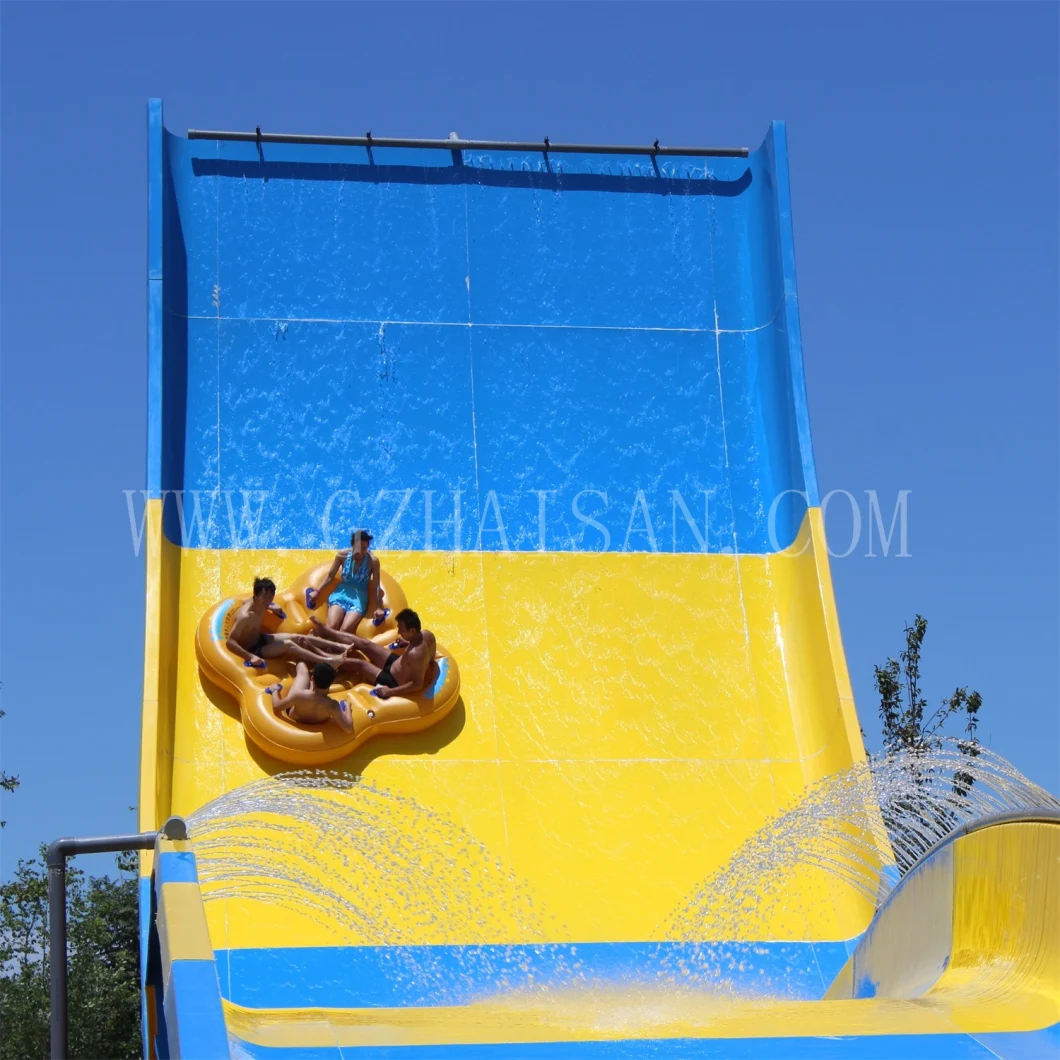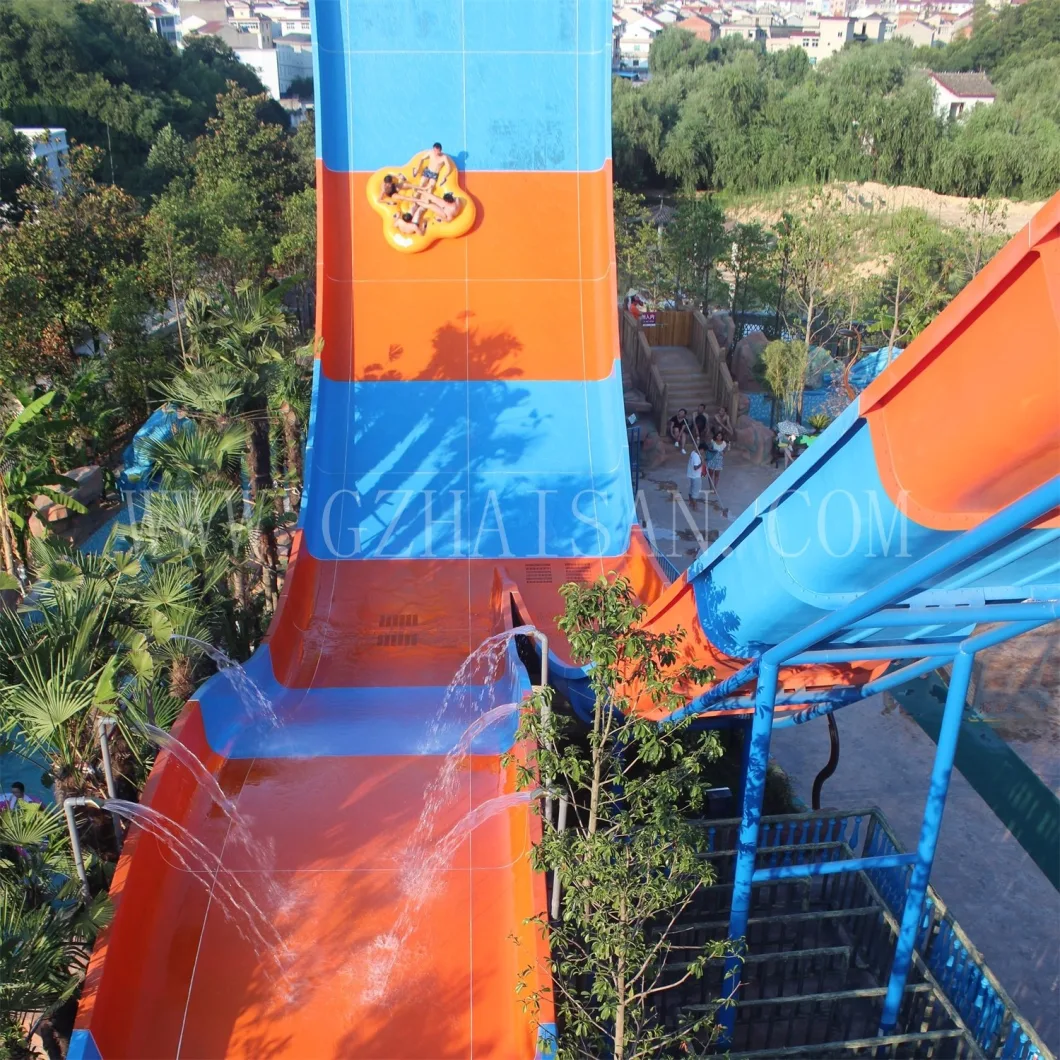 HEAD OFFICE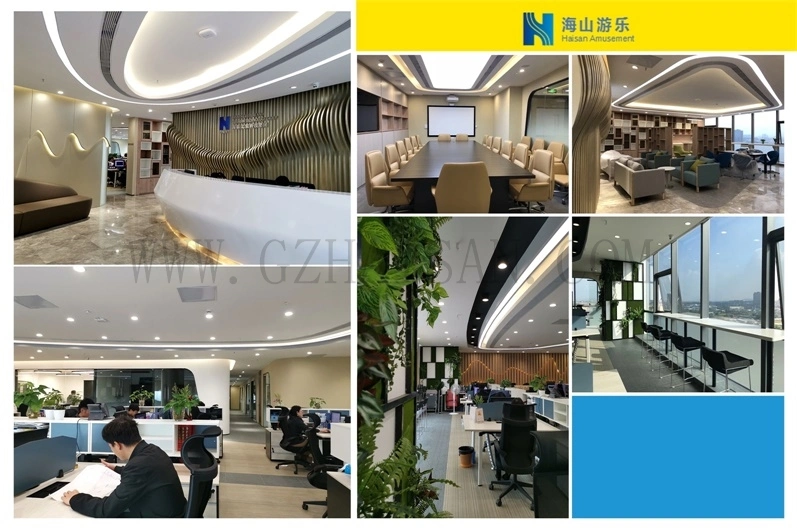 FACTORY
1. The first manufacturing base is in Conghua district with area of 20,000sqm.
2. The second manufacturing base is in Shaoguan city with area of 100,000sqm.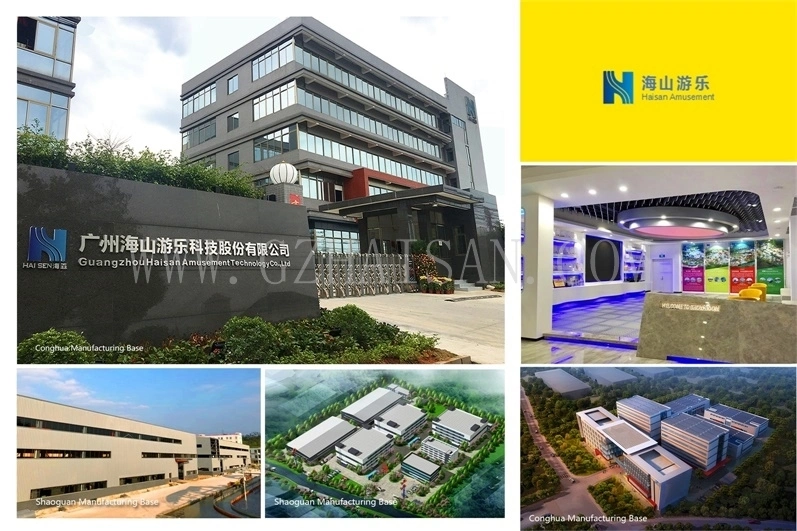 HAISAN ADVANTAGES
A: Brand Advantage
· The only listed company in China's water park equipment manufacturing industry, a Chinese manufacturing brand enterprise featured in CCTV "Quality"
· Executive director unit of China Amusement Park Association and vice chairman unit of Water Park Branch of China Amusement Park Association
· Obtained the most important honor of China's amusement industry, namely "outstanding contribution award for 30 years of China's amusement industry development" in 2017
B: R & D advantage
· Leading product innovation and R & D technology in China with more than 60 product patents
· The first high-tech enterprise in the water park industry and the only one with A-level license
· Drafting unit of GB / T18168-2008 General Technical Conditions for Water Amusement Facilities, member of Technical Committee for Standardization of China Amusement Park, deputy director unit of Water Amusement Facilities Professional Committee of China Amusement Park Association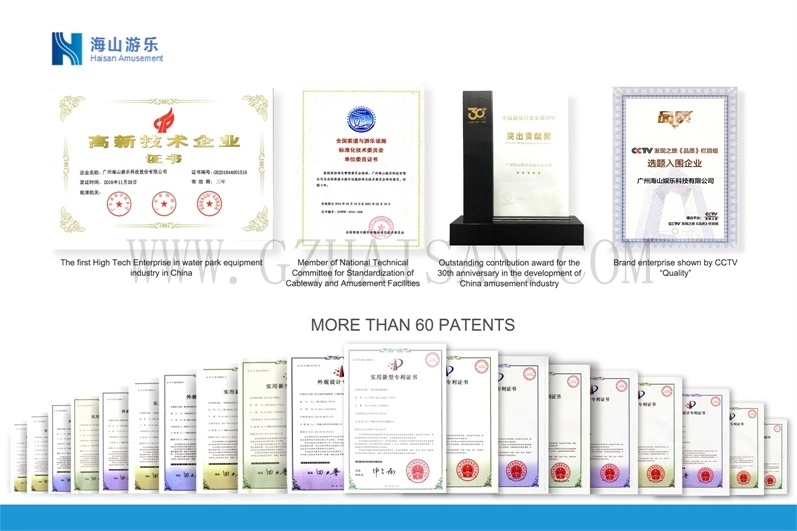 C: Production advantage
· Factory carries out site management in strict accordance with 6S standard and operates in accordance with ISO9001 management system
· Introduced the most advanced five axis CNC gantry high-speed processing equipment from Italy
· With the most advanced RTM production technology and the largest capacity in the industry
D: Comprehensive advantage
· Realizes resource sharing and collaborative operation with other subsidiaries of Guangzhou Haisen Culture & Tourism Technology Group - Guangzhou Haisen Tourism Planning and Design Co., Ltd. (grade A qualification of national tourism planning and design) and Guangzhou Haisen Resort Management Consulting Co., Ltd.
· Provide customers with one stop service of the whole industrial chain, including project planning, theme landscape design, equipment manufacturing and installation, operation and management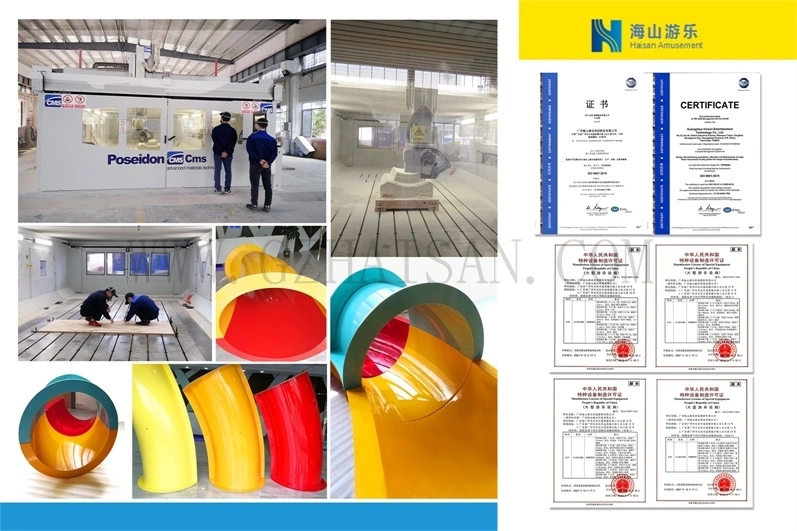 PRODUCT PACKAGE
1. For fiberglass slide, use pearl wood and stretch film.
2. For steel structure, use rubber plate, bubble wrap, pearl wood and stretch film.
3. For water pump and electric components, use bubble wrap, stretch film and clip board.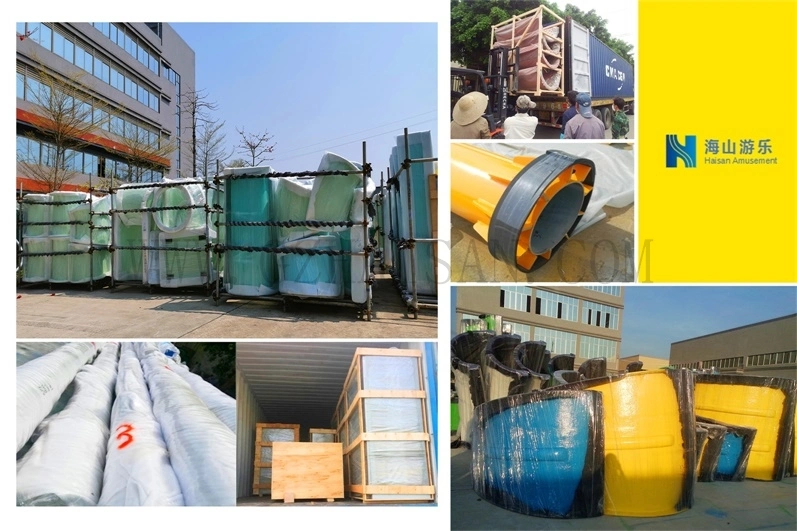 INSTALLATION SUPERVISION
1. Buyer takes responsible for the whole project installation, Haisan will send one or two engineers to the site to supervise the equipment installation.
2. After deposit received, Haisan will send conditional construction drawings(civil work, plumbing and electric drawing) to Buyer after 20 to 25 days.
3. Buyer shall arrange free accomodation for Haisan's engineer, pay the labor fee, travel expenses, insurance, visa and other actual expenses occurred.