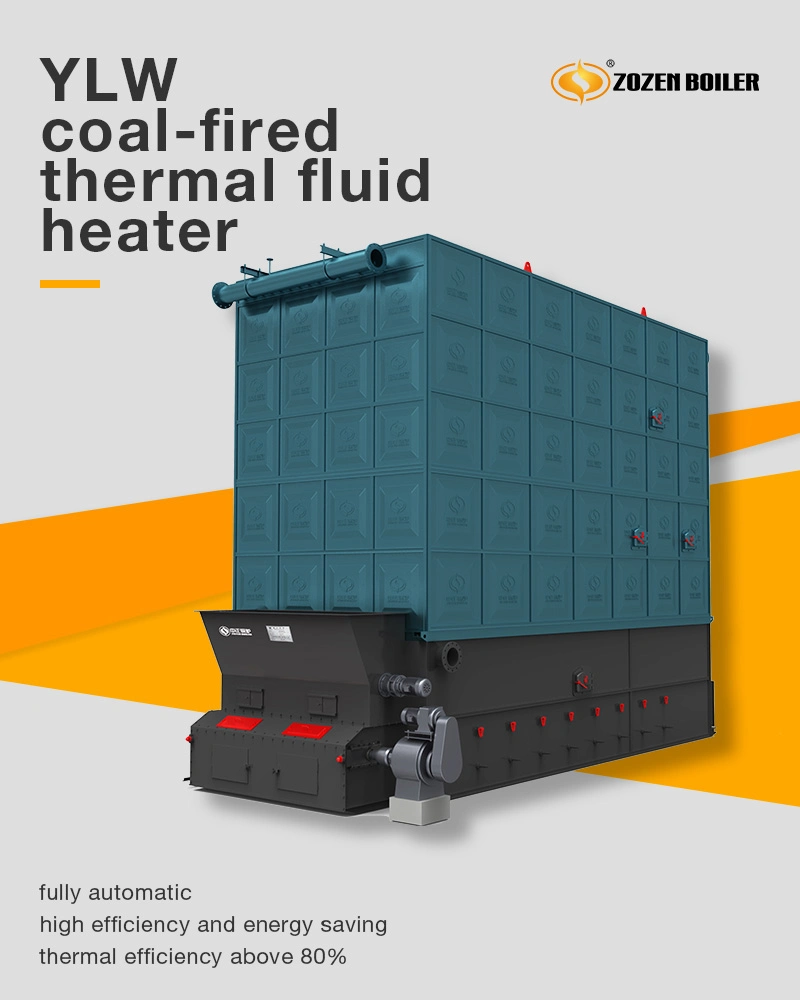 YLW thermal oil heater is square coil horizontal chain grate shop-assembled heater, chain grate and heater proper are transferred separately. It adapts chain grate to realize mechanical feeding coal, mechanical venting by blower and induced draft fan, and mechanical discharging by slag machine.
Fuel falls on the grate from coal bucket during operating and burning, high temperature smoke enters furnace by passing combustion arch, after radiation heat exchange, smoke enters convection heating surface for convection heat exchange, then goes to waste heat boiler and air heater, at last enters dust collector then is vented into the atmosphere through chimney by induced draft fan.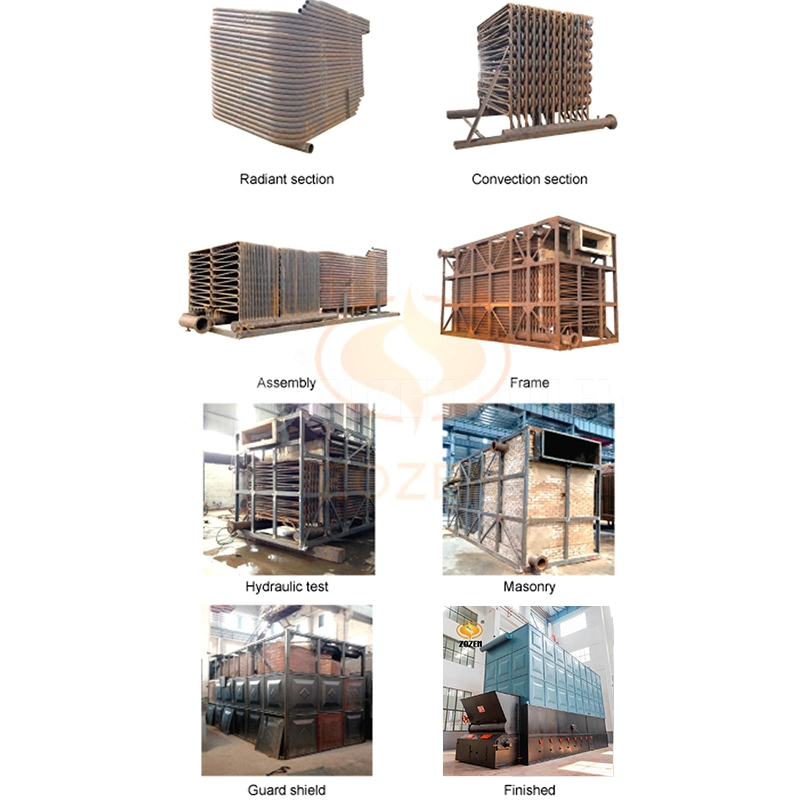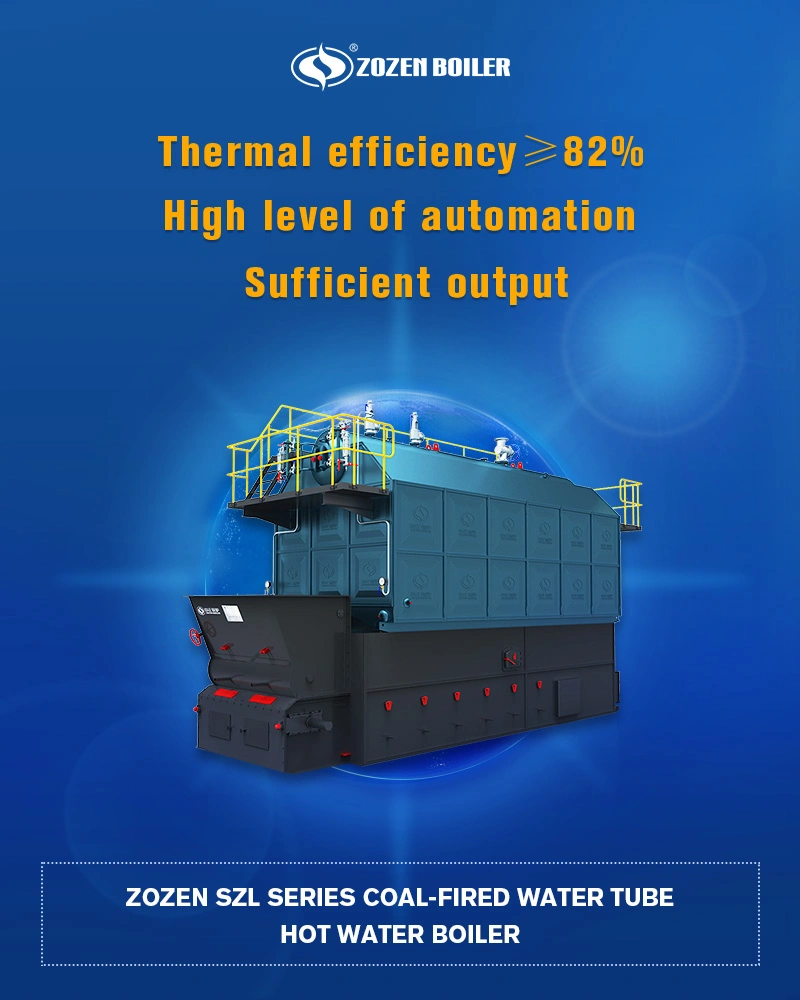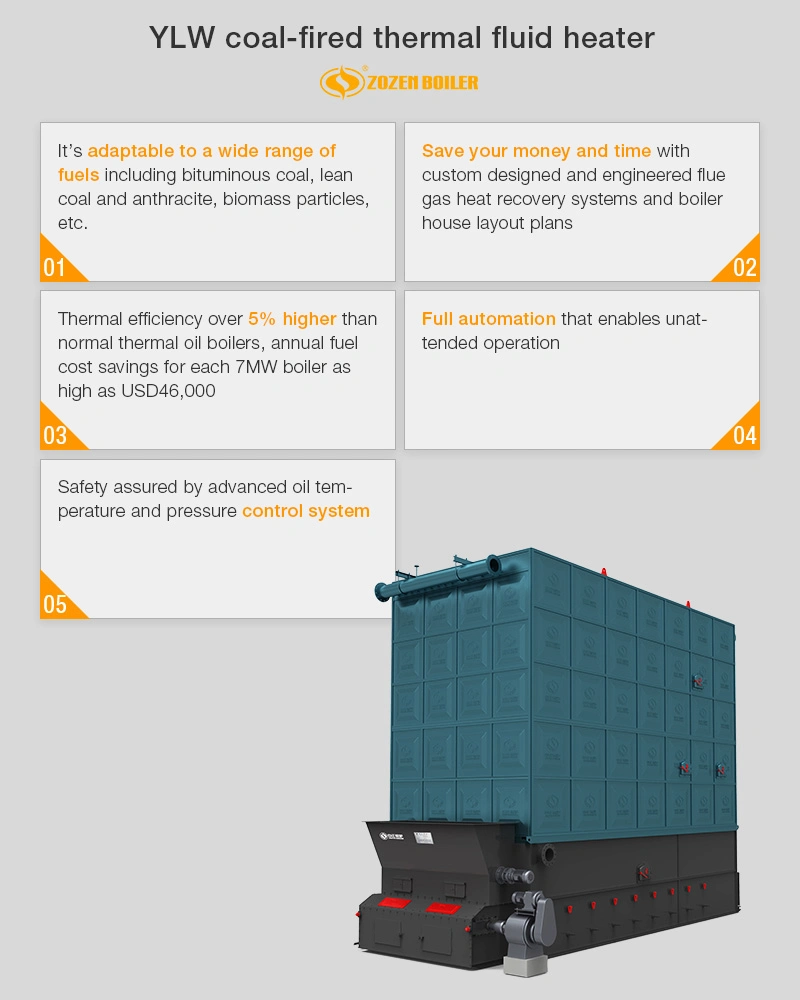 2. What uniqure features do I have ?
2.1 High heat efficiency, unique structure, the heat efficiency can be more than 78%.
2.2 Furnace radiation area adopts double square shaped coiler and on the top of boiler, we design the ceiling pipes, so that the heat load can be reduced on the surface of pipes and the thermal oil can work more safely.
2.3 In the end of boiler, we design a heating area with staggered arrangement. That will enhance the heat transfer coefficient and decrease the ash deposit in the boiler.
2.4 The unique design of furnace arch with our own patent can make the coal burn out fully to enhance the heat efficiency.
2.5 The convection area is equipped with an all-direction soot blower. This will reduce the difficulty of cleaning ash and prolong the service time.
2.6 High safety. When abnormal conditions happen, safety interlock system starts up tp protect the boiler system.
2.7 Accurate temperature control. The oil temperature difference in the outlet can be control with ±3 ºC. If the boilers are equipped with frequency conversion technology, we an control it within ±1 ºC.
2.8 The boiler can be equipped with a waste heat boiler in the rear, if users need hot water or steam from the heating system. That makes full use of the exhausted smoke to achieve energy-saving and enviromental protection.
3. How do I work for you?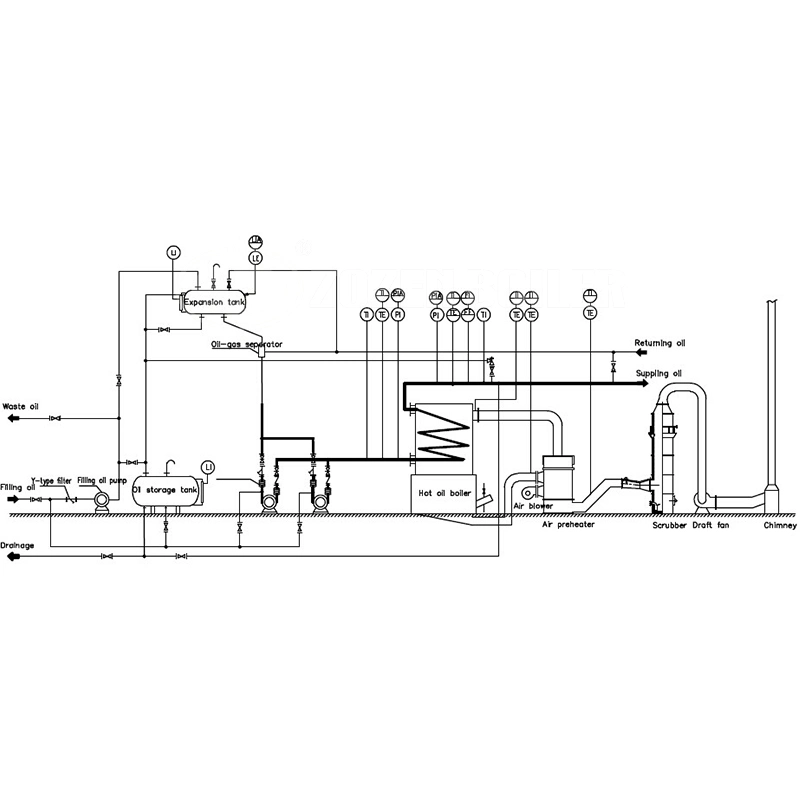 4. What are my control and safety systems?
4.1 The instruments and valves are equipped at key places in the whole heating system to guarantee the integrity, safety and reliability of the control system.
4.2 Functions achievement (Basic requirements)
4.2.1 Steady and high temperature is supplied to meet the requirements of load.
4.2.2 Automatic load regulation is achieved.
4.2.3 Safety interlock and feedback protection are achieved in the abnormal conditons.
4.2.4 Early warning, alarm, fault display and locking are achieved.
4.2.5 Continuous and steady working status is achieved.
4.2.6 Manual and automatic working can be achieved as customer's requirement.
4.3 Main controls
4.3.1 Control the oil pressure at key spots
4.3.2 Control the oil temperature at key spots
4.3.3 Control the smoke temperature at key spots
4.4 List of system main monitoring points (basic requirements)
| | | | | | | |
| --- | --- | --- | --- | --- | --- | --- |
| Model | Rated thermal power (KW) | Rated thermal power (x104kcal/h) | Design working temperature(≤ºC) | Rated working pressure(MPa) | Thermal efficiency(≥%) | System installation power(KW) |
| YLW-1400M/AII | 1400 | 120 | 320 | 0.8 | 80 | 55 |
| YLW-1800M/AII | 1800 | 160 | 320 | 0.8 | 80 | 63 |
| YLW-2400M/AII | 2400 | 200 | 320 | 0.8 | 80 | 76 |
| YLW-2800M/AII | 2800 | 240 | 300 | 0.8 | 80 | 85 |
| YLW-3500M/AII | 3500 | 300 | 320 | 0.8 | 80 | 105 |
| YLW-4200M/AII | 4200 | 360 | 320 | 0.8 | 80 | 125 |
| YLW-4600M/AII | 6000 | 500 | 320 | 0.8 | 80 | 155 |
| YLW-6000M/AII | 7000 | 600 | 320 | 1 | 80 | 170 |
| YLW-7000M/AII | 8200 | 700 | 320 | 1 | 80 | 193 |
| YLW-8200M/AII | 4600 | 400 | 320 | 1 | 80 | 150 |
| YLW-9400M/AII | 9400 | 800 | 320 | 1 | 80 | 160 |
| YLW-10500M/AII | 10500 | 900 | 320 | 1 | 80 | 160 |
| YLW-12000M/AII | 12000 | 1000 | 320 | 1 | 80 | 260 |
| YLW-14000M/AII | 14000 | 1200 | 320 | 1 | 80 | 320 |
| YLW-16500M/AII | 16500 | 1400 | 320 | 1 | 80 | 380 |
| YLW-18000M/AII | 18000 | 1600 | 320 | 1 | 80 | 450 |
| YLW-21000M/AII | 21000 | 1800 | 320 | 1 | 81 | 520 |
| YLW-23300M/AII | 23300 | 2000 | 320 | 1 | 81 | 600 |
| YLW-2600M/AII | 26000 | 2200 | 320 | 1 | 81 | 700 |
| YLW-29200M/AII | 29200 | 2500 | 320 | 1 | 81 | 825 |