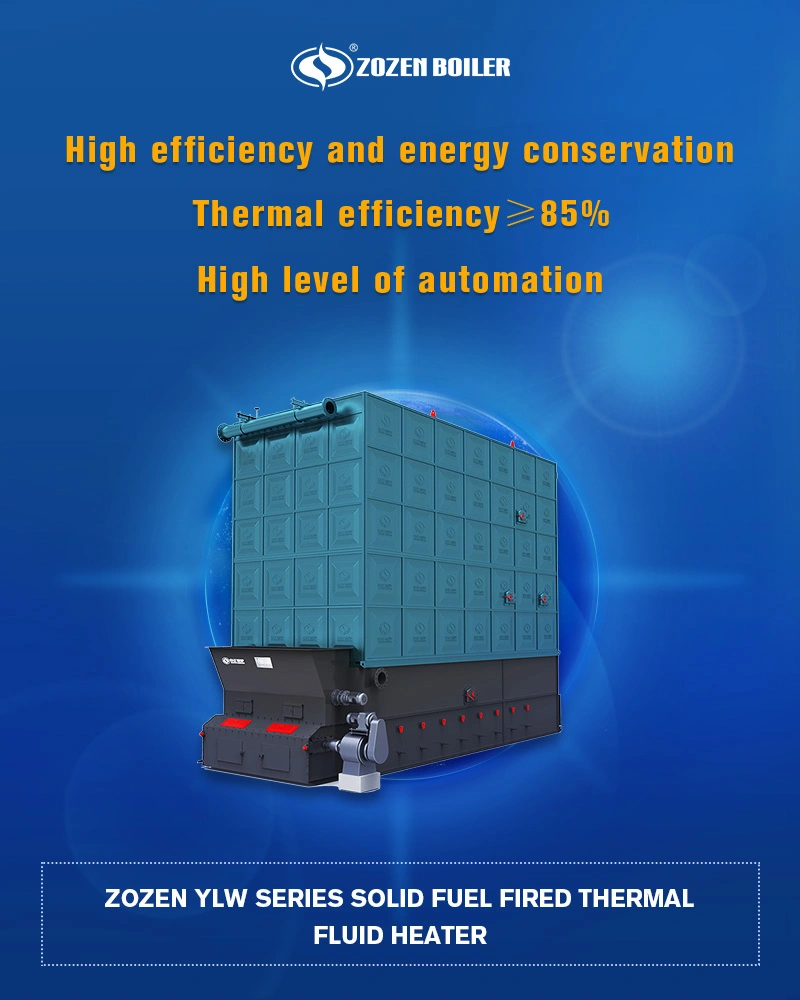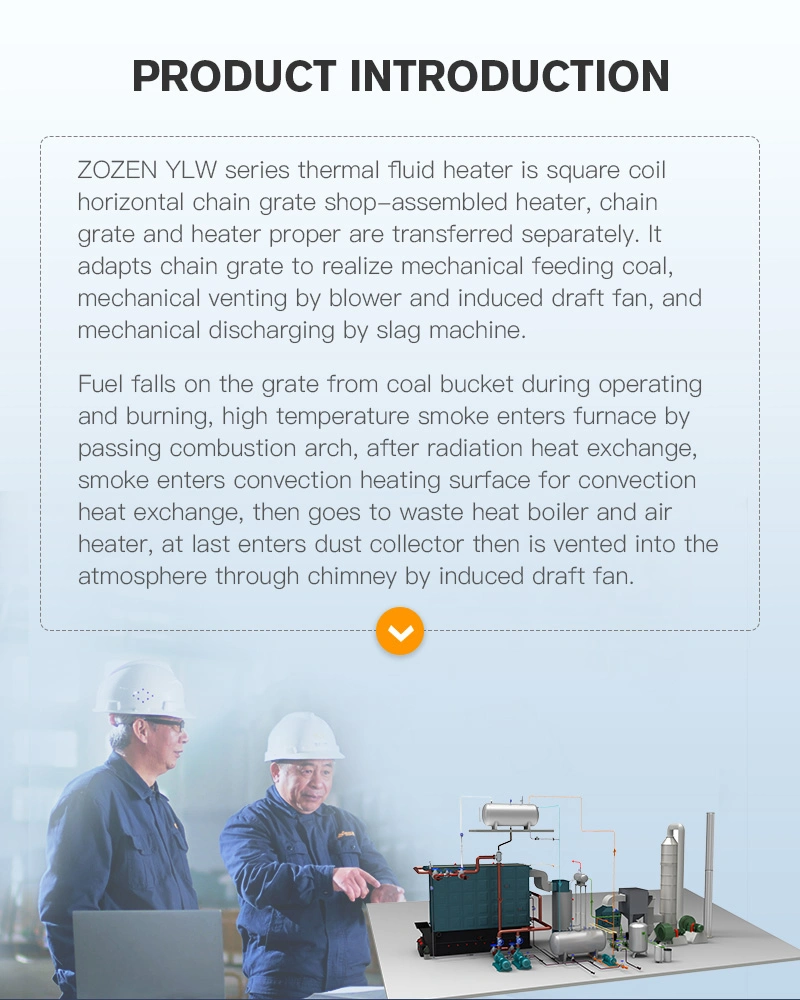 This is a coal-fired horizontal thermal oil boiler (or hot oil boiler). Simply, I consist of radiant section, convection section, chain grate furnace, coal feeder., insulation lay, steel coat, instrument valves and so on.
1. What uniqure features do I have ?
1.1 High heat efficiency, unique structure, the heat efficiency can be more than 78%.
1.2 Furnace radiation area adopts double square shaped coiler and on the top of boiler, we design the ceiling pipes, so that the heat load can be reduced on the surface of pipes and the thermal oil can work more safely.
1.3 In the end of boiler, we design a heating area with staggered arrangement. That will enhance the heat transfer coefficient and decrease the ash deposit in the boiler.
1.4 The unique design of furnace arch with our own patent can make the coal burn out fully to enhance the heat efficiency.
1.5 The convection area is equipped with an all-direction soot blower. This will reduce the difficulty of cleaning ash and prolong the service time.
1.6 High safety. When abnormal conditions happen, safety interlock system starts up tp protect the boiler system.
1.7 Accurate temperature control. The oil temperature difference in the outlet can be control with ±3 ºC. If the boilers are equipped with frequency conversion technology, we an control it within ±1 ºC.
1.8 The boiler can be equipped with a waste heat boiler in the rear, if users need hot water or steam from the heating system. That makes full use of the exhausted smoke to achieve energy-saving and environmental protection.
2. Our market in the world
Nowadays, we have exported our boilers to the following countries: India, Indonesia, Pakistan, Malaysia, Thailand, Laos, Vietnam, Bengal, Philippines, Taiwan China, Papua New Guine, France, Finland, Turkey, Serbia, Lithuania, Bulgaria, Russia, Mongolia, Venezuela, Chile, Colombia, Mauritius, South Africa, Ethiopia, Algeria, Nigeria, Tanzania, Oman, UAE, etc.
3. Total Integration goes far beyond boilers
Efficiency and quality don't end with our boilers. ZOZEN complete integration produces the most efficient boiler solutions in the world. Completely designed, engineered, manufactured, integrated, and serviced by our team, our systems don't have a single outsourced component to jeopardize compatibility or performance. If you are looking for the best-quality boiler systems with the lowest emissions and highest efficiencies, you are looking for Zozen.
| | | | | | | | | | |
| --- | --- | --- | --- | --- | --- | --- | --- | --- | --- |
| Model Spec. | Heating power | Designed temperature | Working pressure | Heat efficience | General electric power | Expansion tank | Oil storage tank | Transport dimension | Transport weight |
| YLW-1400MA | 1400 KW | 300 oC | 0.6 Mpa | 79% | 55 KW | 2 M3 | 4.5 M3 | 5500x2300x3340mm | 19.5 T |
| YLW-1800MA | 1800 KW | 300 oC | 0.6 Mpa | 79% | 63 KW | 2.5 M3 | 6 M3 | 5500x2600x3700mm | 23 T |
| YLW-2400MA | 2400 KW | 300 ºC | 0.7 Mpa | 79% | 76 KW | 2.5 M3 | 6 M3 | 6100x2500x3060mm | 26.5 T |
| YLW-2800MA | 2800 KW | 300 ºC | 0.7 Mpa | 79% | 85 KW | 3.5 M3 | 8.5 M3 | 6100x2500x3600mm | 27.5 T |
| YLW-3500MA | 3500 KW | 320 ºC | 1.0 Mpa | 79% | 100 KW | 3.5 M3 | 8.5 M3 | 6810x2500x3600mm | 29 T |
| YLW-4200MA | 4200 KW | 320 ºC | 1.0 Mpa | 79% | 100 KW | 5 M3 | 10 M3 | 7100x2620x3300mm | 35 T |
| YLW-4700MA | 4700 KW | 320 ºC | 1.0 Mpa | 79% | 100 KW | 5 M3 | 10 M3 | 7800x2620x3300mm | 37 T |
| YLW-5900MA | 5900 KW | 320 ºC | 1.0 Mpa | 79.5% | 120 KW | 5 M3 | 10 M3 | 8200x3200x3300mm | 39 T |
| YLW-7000MA | 7000 KW | 320 ºC | 1.0 Mpa | 79.5% | 120 KW | 6 M3 | 15 M3 | 8840x3200x3300mm | 40 T |
| YLW-8200MA | 82000 KW | 320 ºC | 1.0 Mpa | 79.5% | 150 KW | 6 M3 | 15 M3 | 9740x3200x3300mm | 46 T |
| YLW-9400MA | 9400 KW | 320 ºC | 1.0 Mpa | 79.5% | 160 KW | 8 M3 | 20 M3 | 10400x3380x3260mm | 51 T |
| YLW-12000MA | 12000 KW | 320 ºC | 1.0 Mpa | 79.5% | 260 KW | 10 M3 | 25 M3 | 10400x3560x3420mm | 62 T |
| YLW-14000MA | 14000 KW | 320 ºC | 1.0 Mpa | 79.5% | 320 KW | 10 M3 | 25 M3 | 10400x3560x3580mm | 68 T |
| YLW16000MA | 16000 KW | 320 ºC | 1.0 Mpa | 79.5% | 380 KW | 15 M3 | 35 M3 | 12400x3950x3580mm | 68 T |
| YLW18000MA | 18000 KW | 320 ºC | 1.0 Mpa | 79.5% | 450 KW | 15 M3 | 35 M3 | 15800x3950x3580mm | 68 T |