FAQ
Q: How to get the best price quickly?
A: We need to know the boiler capacity, the fuel you plan to use and the steam pressure you need, and then we can confirm the boiler model. Customer needs to provide us your name, email address and company name, and then we will send you price list immediately.
Q: What about the installation and commissioning?
A:After you receive the boiler, we will have experts to arrive at the site for boiler installation and commissioning. After boiler commissioning, we will also provide free training for boiler operators of your company.
Q: What fittings do you have for boiler installation?
A: The customer needs to leave the company name, email address and name, and we will immediately send you the detailed list of installation accessories for the boiler model you need.
Q: What installation materials do we need to prepare?
A: We will provide detailed installation material list to your email according to different boiler models.
Product parameter
| | | | | | |
| --- | --- | --- | --- | --- | --- |
| Boiler type | Heat power | Heat efficient | Pressure | Fuel | Diemension(m*m*m) |
| YY(Q)W-1200Y(Q) | 1.25MW | >90% | 1.0Mpa | Gas/Oil | 6*2.2*4 |
| YY(Q)W-1400Y(Q) | 1.4MW | >90% | 1.0Mpa | Gas/Oil | 6*2.6*4.5 |
| YY(Q)W-1750Y(Q) | 1.78MW | >90% | 1.0Mpa | Gas/Oil | 6*2.6*4.8 |
| YY(Q)W-2900Y(Q) | 3.0MW | >90% | 1.0Mpa | Gas/Oil | 6.2*3*6 |
| YY(Q)W-3500Y(Q) | 3.5MW | >90% | 1.0Mpa | Gas/Oil | 6.2*3*6 |
| YY(Q)W-4200Y(Q) | 4.2MW | >90% | 1.0Mpa | Gas/Oil | 6.3*3.1*6.1 |
YY(Q)W-700Y(Q)
The important parameters
NO;

Name

Unit

Number

Description

1

Rated thermal power

KW

700

2

Rated working power

Mpa

1.0

3

Rated inlet/outlet ºC

ºC

310/290

4

Design efficiency

%

92.45(Oil)




92.13(Gas)

5

Boiler heat efficiency

%

More than 98%

Be added economizer

6

Design fuels

/

Light oil,Gas

7

Fuels LHV

MJ/kg

42.917(Oil)

MJ/Nm3

35.438(Gas)

8

Consumption of fuels

kg/h

70.77(Oil)

Nm³/h

86.53(Gas)

Be added economizer

9

Radiation heating area

m²

7.199

Convection heating area

m²

28.71

GGH heating area

m²

10.965

10

Fume temperature

ºC

136.68(Oil)

ºC

137.02 (Gas)

11

Fume temperature

ºC

60-80

Be added economizer

12

Excess air coefficient

/

1.15

13

Volume

m3

0.46

14

Bulk weight

kg

4250

15

Bulk size

mm

3256×1727×2181

16

Chimney

mm

Φ325×10000

17

Combustion model

/

Micro positive pressure

Chamber combustion

18

Boiler structure feature

Horizontal-type chamber combustion

19

Control way

Full automation/Manual

20

Ignition way

High-tension/Electrode
YY(Q)W-1400Y(Q)
The important parameters
NO;

Name

Unit

Number

Description

1

Rated thermal power

KW

1400

2

Rated working power

Mpa

1.0

3

Rated inlet/outlet ºC

ºC

310/290

4

Design efficiency

%

92.33(Oil)




92.03(Gas)

5

Boiler heat efficiency

%

More than 98%

Be added economizer

6

Design fuels

/

Light oil,Gas

7

Fuels LHV

MJ/kg

42.917(Oil)

MJ/Nm3

35.438(Gas)

8

Consumption of fuels

kg/h

138.93(Oil)

Nm³/h

169.53(Gas)

Be added economizer

9

Radiation heating area

m²

13.124

Convection heating area

m²

71.233

GGH heating area

m²

29.845

10

Fume temperature

ºC

139.26(Oil)

ºC

139.27 (Gas)

11

Fume temperature

ºC

60-80

Be added economizer

12

Excess air coefficient

/

1.15

13

Volume

m3

1.08

14

Bulk weight

kg

8389

15

Bulk size

mm

4869×2070×2698

16

Chimney

mm

Φ400×10000

17

Combustion model

/

Micro positive pressure

Chamber combustion

18

Boiler structure feature

Horizontal-type chamber combustion

19

Control way

Full automation/Manual

20

Ignition way

High-tension/Electrode
Etc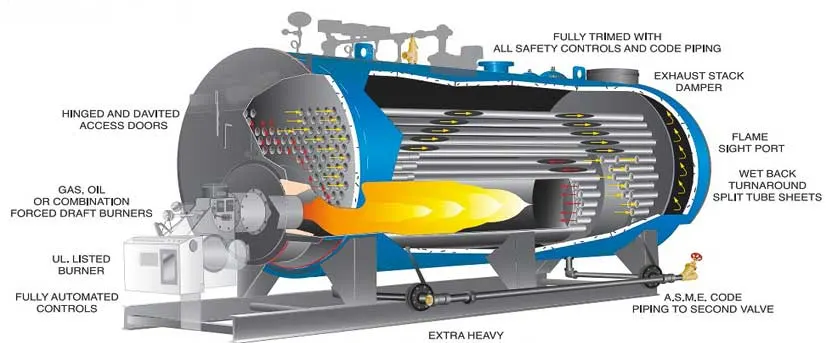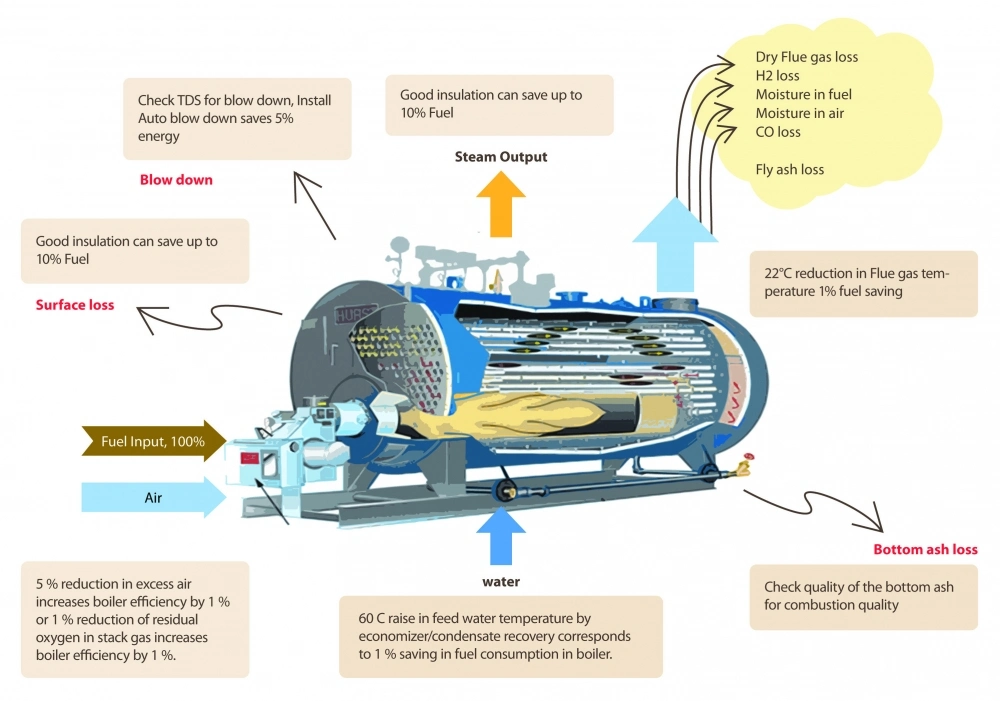 Applications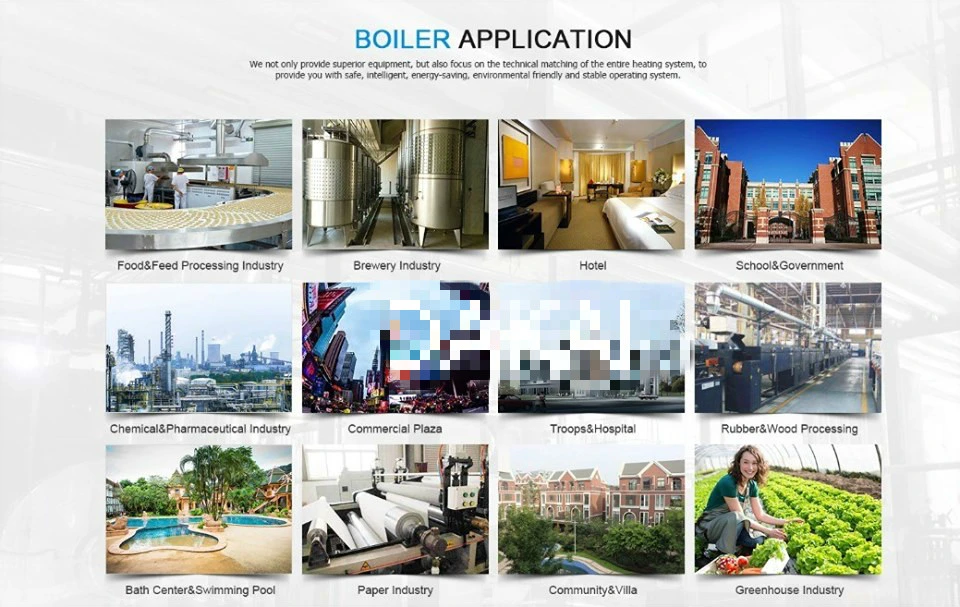 Contact us