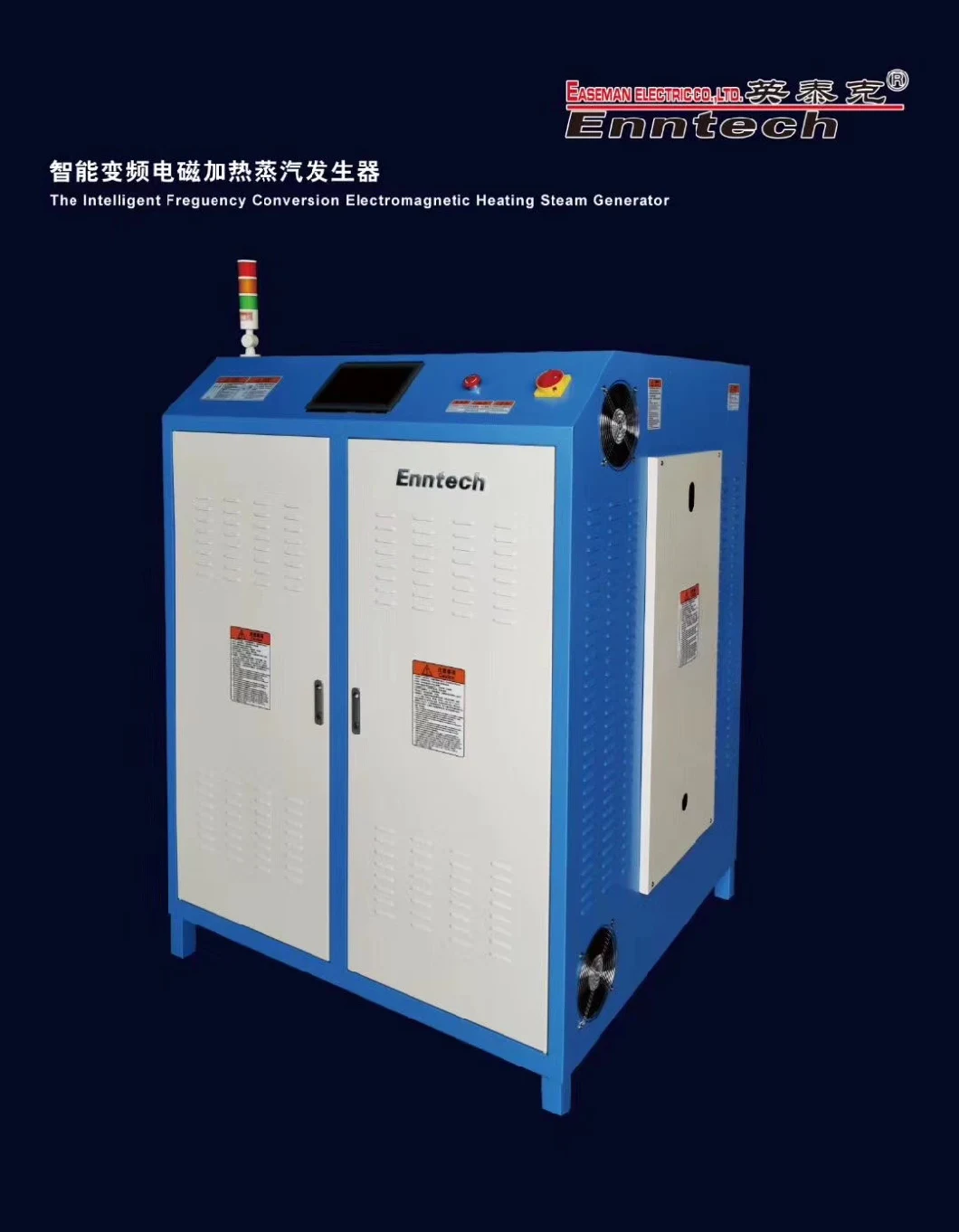 The Intelligent Frequency Conversion Electromagnetic Heating Steam Generator
Product overview:

The intelligent frequency conversion electromagnetic heating steam generator developed by our company has the advantages of energy saving, environmental protection, high efficiency and maintenance-free. It is a technology of transforming electric energy into heat energy by using the principle of electromagnetic induction. The computer controller converts three-phase alternating current into direct current, and then converts direct current into high-frequency high-voltage power with frequency of 10-30K. High-frequency and high-voltage alternating current generates high-speed alternating magnetic field through coil, high-speed magnetic field makes metal container produce numerous strong eddy current, eddy current makes magnetic metal atoms move at high speed irregularly, collide and friction with each other to produce thermal energy. This heating method completely solves the scaling, low thermal efficiency, high energy consumption, short service life and difficult maintenance defects of the resistance-type electric heating tube, also solves the problems of low efficiency and air pollution problem of coal-fired & gas fired boiler and biomass steam boiler.


Advantages of intelligent frequency conversion electromagnetic heating steam generator:
Safety: High-frequency heating steam generator completely realizes the separation of water and electricity, frequency converter is installed outside the tank, the high-speed alternating electromagnetic field generated is transferred to the inside of the tank to heat water; by contrast, for resistance-type boiler heating tube is placed inside the tank, through heat conduction to heat the water in the tank, scaling or oxidation corrosion may bring the leakage of electricity, there is potential safety hazard. In the basis of original safety valve and pressure controller, Intelligent frequency conversion also have equipped with digital pressure, temperature and water level sensors, each part can be independently controlled, multiple security settings are installed. However resistance-type heating tube only have safety valve and pressure controller, can not realize the network of digital joint control, nor can it accurately see the specific values of pressure, temperature and water level of the boiler.

Energy saving and environmental protection: variable frequency heating technology make thermal efficiency of 98% and will not be reduced. In comparison,resistance-type heating tube only reach to 95%, moreover, due to structural oxidation and other reasons, the thermal efficiency will gradually reduce and increase energy consumption. High-frequency electromagnetic heating technology will not cause scaling inside the tank, because of the oscillation of high-speed alternating magnetic field make scale can not be generated and can not be attached to the tank inside,the scale in the furnace can be directly blown down with pressure, easy to operate.

High efficiency, energy saving and fast heating speed; frequency conversion electromagnetic heating steam generator can achieve 90 seconds steam out, by contrast, the resistance-type heating tube needs 20 to 25 minutes, even longer in winter. The product uses frequency conversion output technology, can automatically adjust the size of heating power according to the size of the steam output. Because of the high speed of steam production, the stable steam volume and pressure in the furnace can be maintained, and the electric energy can be saved to reduce waste, which is not available in the electric heating tube boiler.

Zero emission, pollution-free: this equipment does not produce harmful gases, does not consume oxygen, compared with gas, coal, fuel, and biomass boiler it really realizes zero emission, zero oxygen consumption, green environmental protection.

Intelligent control one key start without manual duty, saving labor, through the PLC touch screen control, using soft-start frequency conversion output technology, this product can achieve automatic operation, without manual duty, multiple machines can be connected and controlled achieving remote operation

Modular design is easy to use: easy to install, easy to operate, intelligent automatic control, can reserve heating and switching time, free to set heating temperature, heating pressure, boiler regular blow down time, modular design can be combined freely based on the size of the customer steam volume, a controller can control multiple variable frequency electromagnetic heating Steam generators.

Long service life: All parts of intelligent high-frequency heating steam generator adopt imported IGBT, which can work continuously for more than 10,000 hours, and the minimum service life of the whole machine is more than 10 years. In contrast, the continuous operation of the electric heating tube does not exceed 1 thousand hours on average and the whole machine has an average life span of 5 years.
PRODUCT SPECIFICATIONS:

Model

GL20KW

GL30KW

GL40KW

GL50KW

GL60KW

Heating power

20KW

30KW

40KW

50KW

60KW

Voltage power

380V

380V

380V

380V

380V

Steam pressure

0.4MP

0.4MP

0.4MP

0.4MP

0.4MP

Rated capacity

31.2kg/h

46.8kg/h

62kg/h

78kg/h

99kg/h

Steam temperature

145ºC

145ºC

145ºC

145ºC

145ºC

Steam outlet

DN15

DN15

DN15

DN15

DN15

Dimension mm

780/1050/1700

780/1050/1700

780/1050/1700

780/1050/1700

780/1050/1700

Weight

228kg

228kg

238kg

228kg

252kg

Model

GL80KW

GL100KW

GL120KW

GL140KW

GL160KW

Heating power

80KW

100KW

120KW

140KW

160KW

Voltage power

380V

380V

380V

380V

380V

Steam pressure

0.4-0.7MP

0.4-0.7MP

0.4-0.7MP

0.4-0.7MP

0.4-0.7MP

Rated capacity

126kg/h

156kg/h

186kg/h

218kg/h

256kg/h

Steam temperature

145-175ºC

145-175ºC

145-175ºC

145-175ºC

145-175ºC

Steam outlet

DN20

DN20

DN20

DN20

DN20

Dimension mm

1225/1325/1800

1225/1325/1800

1225/1325/1800

1225/1325/1800

1225/1325/1800

Weight

380kg

386kg

390kg

400kg

420kg
Energy Efficiency Comparison
(Calculated on the basis of 100 kg steam production/hour (0.4 MP pressure) working 8 hours a day)
Item
Electric heating tube
Variable Frequency Electromagnetic Heating

Heat efficiency

Average 90%

98.6%

Steam production

1.2KG/h/KW

1.56KG/h/KW

Equivalent power

84kw

65kw

Hourly Power Consumption Cost

Full load 84 kilowatt-hour, power consumption is increasing after scaling

Full load 65 kilowatt-hour (converter output is actually lower), no scaling, maximum power consumption 65 kilowatt-hour.

Daily power consumption cost

Minimum power consumption 672 kw

Maximum power consumption 520 kW

Operator requirements

No

No

Inspection Requirements

No

No

Steam out time

Average 20mins

90 secs

Heating method

Contact heating tube (placed in water), easy to leak electricity

Non-contact electromagnetic induction heating, safe separation of water and electricity

Output mode

Fixed power output

Soft start frequency conversion output

output power

Fixed power

Automatic adjustment of power with steam output

Safety control

Pressure switch and safety valve

Computer Intelligent Control: Temperature, Pressure, Water Level Sensor Independent Monitoring, Overcurrent, Overload Protection, Dry Burning Protection, Water Tank Water Shortage Protection, Inverter Electromagnetic Coil Overheat Protection, Pressure Controller, Safety Valve

Control accuracy

Pressure differential control, low precision, water supply to reduce pressure

Automatic infinitely adjustable frequency conversion control, high precision without pressure difference, no pressure drop in water supply

Scaling

Yes

No

Shelf life

Design life 5 years

Design life more than 10 years

Maintenance cost

High failure rate of heating tube and high maintenance cost

Maintenance-free, very low failure