DZL Series Chain Grate Coal Fired Steam Boiler
The DZL series quickly installed coal fired steam boiler is the most advanced water-fire tube boiler in Chinese market and foreign market,this series boiler can be used in textile,food and corrugated box factory with high efficiency, small in size and long working life.
The coal fired steam boiler after improvement takes use of structure of wing type smoke duct,one-way screwed smoke tube,arched tube plate,smoke and gas separate room and several other advanced technology,which has increased the water circulation speed and safety factor.This series boiler is well designed,compactly made up, quickly installed,mono layer,so that the civil engineering and investment could be saved.With these improvement, the boiler's working life extend much to be the national energy saving product.
1-6 T Coal Fired Steam Boiler usally transported as entiraty part,Capacity more than 8t(including 8 t/h)are transported as up body and bottom body (chain grate).

Boiler main body will be loaded on the 20' or 40' FR(flat rack) containers with weather cloth,boiler accessories will be packed with plywood boxes and loaded in the 20-feet or 40-feet GP(Standard) containers.
Weclome to Qingdao,we will talk more details,check our workshop and running boilers.
SPECIFICATIONS FOR DZL COAL FIRED STEAM BOILER

Steam capacity

T/h

1, 2,3,4, 6, 8, 10, 12, 15, 20

Steam temperature

ºC

170, 184, 194, 204, 226

Fuel

Coal,biomass

Working pressure

Mpa

0.7,1.0,1.25, 2.0,2.5

Thermal efficiency

%

80-85

Feed water temperature

ºC

20-105

Grate heat area

m²

1.5-23.15

Fuel consumption

Kg/T(steam)

120

Max transportation weight

T

16-49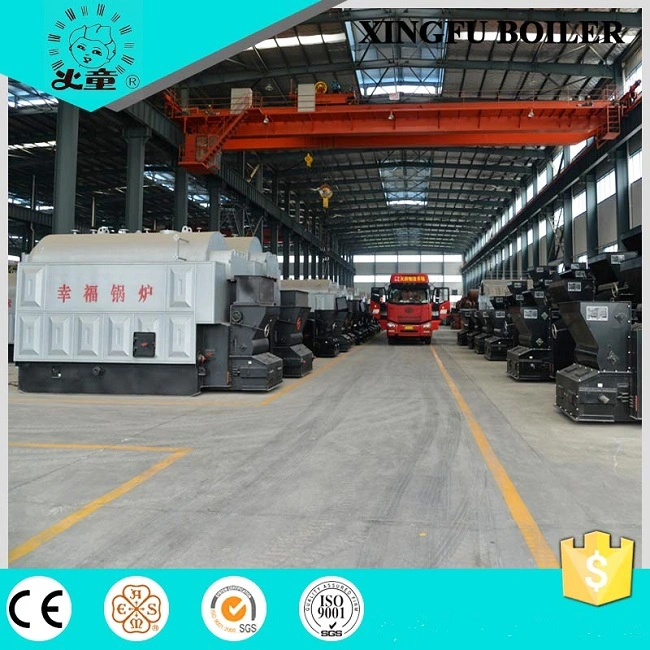 Steam capacity

T/h

2

4

6

8

10

20

Working pressure

Mpa

0.7/1.25/ 1.6

1.25/1.6/ 2.5

1.25/1.6/ 2.5

1.25/1.6/ 2.5

1.25/1.6/ 2.5

1.25/1.6/ 2.5

Steam temp.

ºC

170/194/ 204

194/206/ 226

194/206/ 226

194/206/ 226

194/206/ 226

194/206/ 226

Feed water temp.

ºC

20

20

20

105

105

105

Thermal efficiency

%

78

78

80

80

80

82

Grate heat area

m²

3.2

5.14

7.4

9.6

11.4

23.15

Coal available

II type bituminous, low heat capability:17700-21000KJ/kg

Model

1½GC5×7

1½GC5×7

2GC-5×6

2½GC6×6

DG12×7

DG25
-35×5

Motor power

7.5/11

7.5/11/ 18.5

15/18.5

15/18.5

18.5/22

30/37

Model

G6-41-13
NO5.4A

G6-41-13
NO6.4A

G6-41-13
NO7.1A

G6-41-13
NO8.5A

G6-41-13
NO8.5A

TG20-1

Ventilation

m³/h

4358-2310

7358-3596

10354-5394

18137-9369

18137-9367

32079

Wind pressure

Motor power

Kw

3

5.5

7.5

18.5

18.5

37

Model

Y6-41-13
NO5.4C

Y6-41-13
NO7.1C

1Y6-41-13
NO10C

Y6-41-13
NO11.2D

Y6-41-13
NO11.2D

GY20-15

Ventilation

m³/h

8901-4350

15219-8171

32144-16607

41773-21578

41773-21578

73308

Wind pressure

2568-3240

2454-3283

Motor power

Kw

11

22

37

45

55

110

Maximum size for shipment


m

5.82×2.1×3.2

6.5×2.66
×3.52

8.45×3.2
×3.58

Maximum weight for shipment

T

18/19/20

27/29/31

32/33/34

42/43/44

45/47/49

30/31/3
Certifications